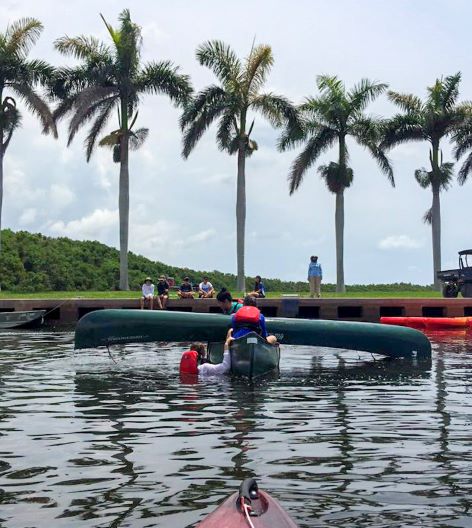 Junior Naturalists learning canoe over canoe rescue
Junior Naturalist Training
A five day summer training session at the Deering Estate that encourages youth to take an active role in environmental stewardship and education and prepares them to serve as peer mentors. This course allows youth to assist staff and enjoy being mentors to our Summer Camp participants during our Summer Camp Sessions. The course includes certifications in American Red Cross First Aid and Adult/Child CPR in addition to an introduction to basic canoeing, South Florida ecosystems, and Leave No Trace. This counselor- in-training program provides service learning hours to participants and prepare the Junior Naturalist for experiences, internships, and other opportunities in environmental studies, natural sciences, nature based recreation, and volunteerism. Must be available to volunteer for an entire session at a time.
Ages: 15-17
Cost: $225
8:30 AM – 4:30 PM.
Session #3:  June 24 – June 28, 2019
For more information on our Junior Naturalist program, email Vanessa Trujillo.