Cultural Programs Archive
2020
The incorporation of these forms into the natural landscape of the Deering Estate highlight the irony of the mediated experience of the natural world through the lens of a screen. The sculptural forms of the Slumpies are sometimes meant to recall the dramatic gestures of classical painting and sculpture. Slumpie 15 (Railed bed) & Slumpie 33 (Fitzcarraldo) provide places for the body to rest, and effectively melt into their cyber spaces. They are almost counterintuitive in nature and do not aim to promote correct posture, but provide a jungle gym that the body acclimates to the longer it lingers. Jillian Mayer has noted that she does not aim to create specific postures for the body, but rather enjoys the "dance" that she observes as her users aim to decode them.
Regina Jestrow: Extended Connections
May 23– August 31, 2020
Regina Jestrow's Palm grove installation Extended Connections is an interactive mediation on the psychology of social distancing and life in the new normal in a post Covid-19 world. Jestrow's work makes strong connections to the formal language of textiles and indigenous quilting practices of storytelling. Extended Connections tells the story of the 'new normal' and takes its form from the distances and patterns of social distancing. Pulling inspiration from her surroundings, Jestrow has created her vibrantly hued, outdoor, interactive sculptural installation as a piece reflective of today's time and place
Extended Connections takes form in over 400 vibrant concrete pavers that alternate to form an interactive labyrinthian pattern that allows for her audience to safely engage with the work. Jastrow challenges the anxieties that bubble to the surface when modern society is forced to slow down by the ambiguity presented by COVID-19, and uses the transcendental platform of art to provide an outlet. The installation allows for viewers to engage with the work by either standing or walking through the brightly colored markers arranged as a grid across the lawn in the Palm grove.
New York native and Miami based artist, Regina Jestrow, uses quilting as a means to explore both the structure and flexibility of pattern. By capitalizing on the rhythm created by pattern she uses repetition in a way that breaks the inherent banality through a variety of mediums. Originally trained in commercial photography, her focus shifted once she moved to Miami. She began using quilting, originally a source of comfort, as a creative outlet; an exploration that would ultimately lead her to conceptualize using the methodology of quilting to make thought provoking connections. With this latest, large scale iteration of her practice, Extended Connections aims to provide both comforting, and playful relief for all who engage with her Miami-paltted maze.
 Richard Moreno: Mysteries of the First Stone
May 18– July 31, 2020
For his new work, current artist in residence Richard Moreno took inspiration from the grand yet nonpermanent architectural structures produced for world's fairs, and parallels that with the fortified and timeless features of the 1922 Stone House. The Mysteries of the First Stone is large temporary structure built to house a resin-casted Limestone found at the Deering Estate, and draws a poetic connection between humanity and the bedrock of South Florida. Taking much of his visual influence from motifs of gothic architecture, here the vaulted archways of the Stone House porch, Moreno combines these references with modern materials and the macabre to create this new work within his signature aesthetic. The Mystery of the First Stone plays well within the niche of Moreno's practice, where he has created space within his monolith to invite visitors to contemplate this poetic history of society drawn to a land constructed of the layers of millennium prior.
Oolitic limestone is a composite of fossilized organisms that form together over time and serve as a document of the life that has passed through a site. Moreno was fascinated by the evidence of over 10,000 years of human occupancy on this site and envisions a mysticism about the land at the Deering Estate that drew Charles Deering to live on and protect it over 100 years ago. Moreno is regularly inspired by the apotropaic nature of objects and spaces. The Deering Estate has provided a muse in setting, material, and message allowing Moreno to delve into the themes that have persisted throughout his practice. Much like the physicality and weightiness of the limestone itself, Moreno aims to produce objects that leave a lasting presence with his audience. With an immersive sculptural practice, he succeeds in his artistic endeavors. The Mystery of the Frist Stone creates a transcendental cocoon to elevate Moreno's resin casted limestone, shining light on its inherent value physically and metaphorically. This work highlights the history of artists seeking to capture the divine in nature dating back to the earliest known works of art. With The Mystery of the First Stone set deep in the mangroves, Moreno contributes to this lengthy cultural history.
Natalia Garcia-Lee: Monkey Mind
May 20, 2020 – July 8, 2020
Natalia Garcia-Lee's new suite of paintings are the culmination of her study of human behavior from the perspective of neuroscience and is located at the intersection of art and science. Through a series of intricately applied layers of paint and interlacing patterns, Garcia-Lee's paintings trace the chemical processes of the brain that cause human beings to react, feel and exist in response to a world of stimuli. She refers to these works as the "Monkey Mind" series in reference to the Buddhist concept of the restless and reactive state of the mind of the contemporary world. While the series itself grows in scale, each subject progress in de-escalation, to the most minute of happenings within the brain. The chosen portion of the series, presented as part of Spring Contemporary Projects (2020), focuses on the molecular happenings that make up the human experience of memory. Four medium format oil paintings, and two large-scale canvases make up Garcia-Lee's showcase.
The series begins with Solid State, a painted rendering of the brick-and-mortar structures that hold memories and produce thought. One hundred unique chimpanzee faces are superimposed by blue neurons, and receded by a loose, white silhouette of the brain, providing the scene for Garcia-Lee's abstracted portrait of the mind's inner workings. The image is obscured by narrowly spaced lines to create an optical illusion, deterring the eye from complete focus, and finished with a vibrant register of brain-matter carnage, grounding the piece. Signal Transmission follows, where Garcia-Lee employs neurons in different colors to overlap, and lead the eye off the canvas, demonstrating the brief lifespan of the countless thoughts that occur simultaneously within the Monkey Mind. Each representation of thought varies in clarity to demonstrate the malleable nature of memories; how they fade or change overtime.
Engram reduces the romanticized idea of memory tied to personal identity, by exposing the utilitarian nature a of memory through Garcia-Lee's neuron renditions. This second 'portrait' of the physical mind is produced in a molecular cloud of acidic greens, and whites, providing a visual representation of the key practice utilized when creating our perception of our world, and ourselves. The final of the four medium format paintings, Cascading Event, puts thoughts to action, displaying an untraceable transformative tipping point that occurs at any learning moment. While the latticed neurons remain consistent, the critical point is realized as the chevron-like illusion shifts from dark to light. The nature of the subject has changed, yet the composition remains entirely intact, evoking the reality of reaching the imperceptible crucial point.
20-40nm and Synapse provide the grand arena for Garcia-Lee to illustrate the molecular warfare that occurs in microscopic spaces between synapse and receptor, at every given moment. 20-40nm presents a city built by neurons in the midst of a hurricane-like chemical storm. Obscured by clouds, neurotransmitters cascade down the scene and the fabricated city falls to the background, display chaotic nature of flooding chemicals. In Synapse neurons ground the composition as neurotransmitters cascade across the canvas. As they fall, the neurotransmitters grow in size substantiating their importance. This imagined landscape is descriptive of the miniscule spaces between the atomic building blocks of all cerebral functions.
2019
The Black Artist Talk at Deering Estate
October 5, 2019
Hosted by Artist-In-Residence, Michelle Grant-Murray, Black Artists Talk is a forum focused on engaging Black and Brown artists in a dialog that both explores, and provides answers through the process of growth and preservation of the community in South Florida. The panel is made up of activists, educators, and religious leaders to provide a fruitful discussion surrounding larger topics. This iteration will focus on climate change, earth ethics, sustainability, and its correlation to spirituality. Along with Grant-Murray, board members for the 2019 forum include Oloye Aikulola Iwindara (Nathan Lugo), Teo Castellanos, and Minister Karen D. Harris.
Michelle Grant-Murray has explored a profound correlation to spirituality within nature through her dance practice. She is the artistic director of Olujimi Dance Theatre, an institution that focused on the Olujimi dance technique forged by Grant-Murray, aiming to develop a physical, mental, and intellectual relationship between the body and humanity. Further, she is committed to earth ethics backed by sustainability in her educational and creative pursuits. She was an active member of the National Water Dance, a community committee organized by artists and educators to raise awareness for national issues, while simultaneously advocating for the environment. Her efforts towards an both an cultural and environmentally preserved creative community are reflected in her creation of The Black Artist Talk projects.
Olpoye Aikulola Iwindara is an inundated and trained priest of various traditions, aiming to uplift the indigenous Orisa sprituality of Yorubaland within the global Orisa community. Since traveling annually to Yorubaland beginning in 1998, he has gone through various initiations and training within the mysteries of the Orisa with several well-respected mentors. His efforts lead him to be honored with decorated titles within the priesthood society.
Teo Castellanos is an ordained member of Dharma Teachers Order, stemming from Vietnamize Rinzai Zen lineage. He also works in theater, film, and television, and has been awarded various titles through his religious and cultural practices. He founded the Dance & Theater Company, Teo Castellanos D-Projects, in 2003 and is also Artistic Director of the devised theater company Combat Hippies. He has toured globally, and is an active member of SAG/AFTRA.
West Perrine native, Minister Karen D. Harris, grew up attending Sweet Home Missionary Baptist Church. 1983 she dedicated her life to Christ and became a baptized member of Sweet Home under Reverend Walter T. Richardson, PhD. She began work with the Church immediately, and has focused her energy to enrich and encourage others by teaching, and preaching the uncompromised word of God with a tone of accessibility, creating a message for all.
More on Michelle Grant-Murray & Olujimi Dance Collective
More on Olpoye Aikulola Iwindara
Material Nature
October 2, 2019 – January 15, 2020
Material Nature features the work of two Miami-based painters whose works employ the textures, rhythms and patterns found in nature. Immersed in the flora and fauna of South Florida, these paintings reflect the indexical relationships to natural areas that surround them. This joint exhibition is a showcase of the convergence of two seemingly distant areas of thought: a primary hands-on immersive experience into the nature of South Florida, and the interpretation of that natural experience through post-modern, deconstructive modes of abstract application.
Former artist in residence and Miami native, Alex Nuñez, is recognized for her large-scale abstract paintings that functions as a meditation on her experiences, in this case her personal excursions into Deering Estate's natural areas. In Feeding Frenzy, colors and forms appear to vibrate off the canvas like ripples and swirls, a play on the common visual seen in the bay when it's glassy surface is compromised. Nunez's practice is comprised of a somewhat subconscious journey, documented by the artist. Each experience is pieced together through mixed media, an amalgamation of paints, colors, footprints, glitter, and even sharpie, onto endless pieces of canvas.
Julie Davidow's paintings employ a balance of geometric abstraction and biomorphic design. Calling to the facets that organize our society, Davidow breaks down imagery derived from cartography and architecture, as well as biology and geology. She overlaps these concepts in her process to produce abstracted works of art that are now visually removed from their influences, allowing Davidow to place opposing hemes into conversation with one another harmoniously. Hard edges meet with sinuous lines and blur boundaries between material processes and natural processes. The exhibition further connects the legacies of the Deering Estate as a natural preserve and important site for botany and ecology with contemporary art. In addition to the paintings will be archival materials relating to the early explorations of botanist John Kunkel Small during his research trips to the Deering Estate.
Deering Spring Contemporary
Tension in 3 Dimensions
March 14, 2019 – June 15, 2019
As part of the annual Deering Spring Contemporary, Tension in 3 Dimensions offers visitors an opportunity to experience artworks converging on the exploration of gravity and lines in space as they relate to the natural and historic site. Keeping true to Charles's interests, these artistic renderings, showcasing the cornerstones of physics, merge with physical culture in this installation of the annual show. Participating artists explore how one can creatively interact with space through eight, individual installment projects.
Each project exists in conversation with, or is inspired by, the Deering Estate historic houses and natural grounds. These gravity-defying works invite visitors to explore the grounds, with projects by Felecia Chizuko Carlisle, Felice Grodin, Adam Brent, Carlos Rigau, Kerry Phillips, Brookhart Jonquil, Karen Rifas and artist and curator Ryan Roa. The group exhibition has transformed the estate of one Chicago industrialist and philanthropist into a playground for visitors to engage their senses and contemplate their reality.
The multifaceted suite of projects is complete with performance, environmental installation, sculpture, and more. Felice Grodin exhibited The 9th Ecosystem, a virtual reality projection presented in conjunction with the PAMM (Pérez Art Museum Miami) to challenge visitors to see their effect on the environment. With the help of PAMM assistant curator, Jennifer Inacio and technology and augmented reality solutions provided by Cuseum. Felecia Chizuko Carlisle activated the body with a sunset dance performance, choreographed by Catherine Annie Hollingsworth. In conjunction of stimuli and medium used by featured artist, Tensions in 3 Dimensions saturated each possible avenue to encompass all the senses utilized in 21st century life
More on Felecia Chizuko Carlisle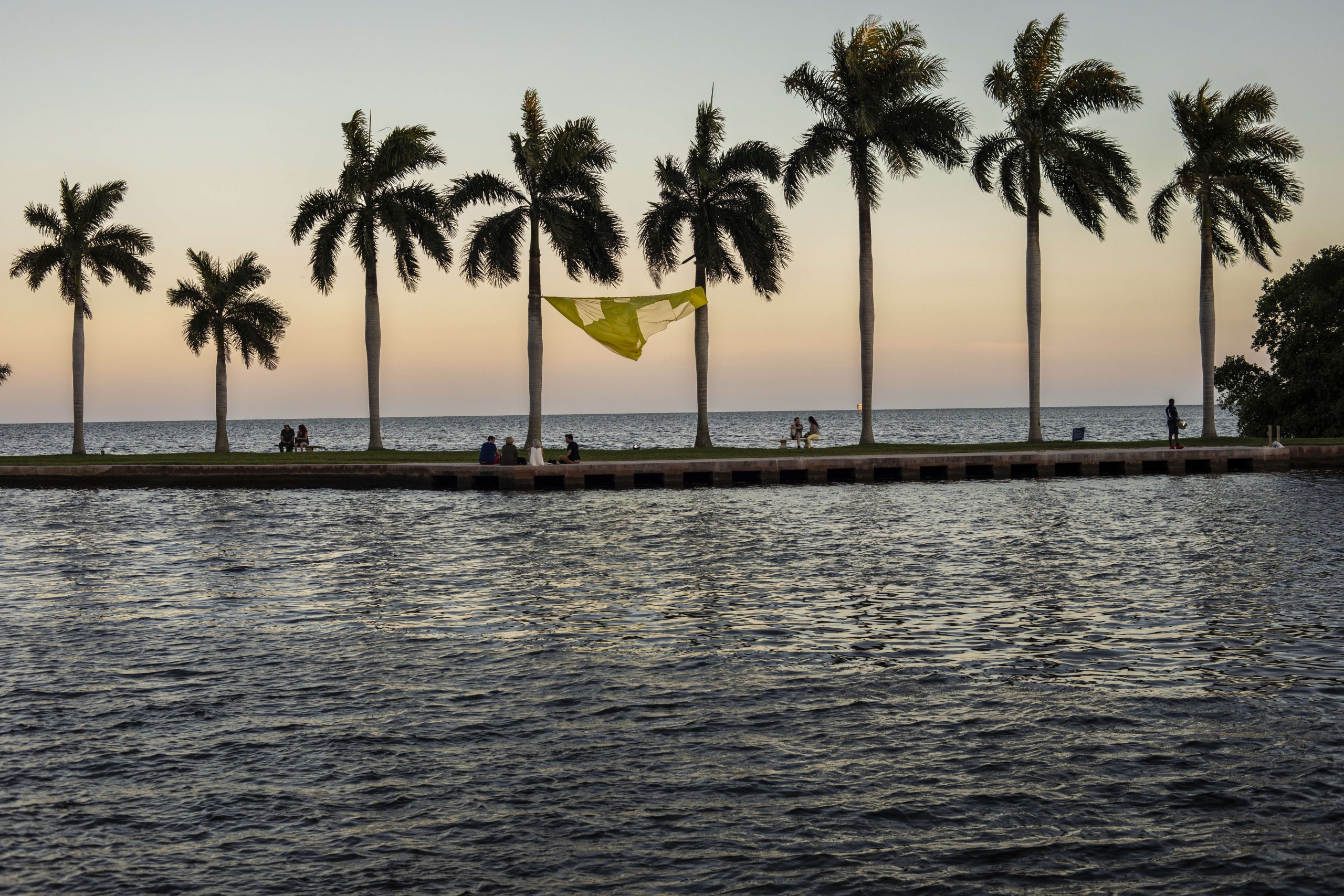 Gretchen Scharnagl: Migration
July 24, 2019 – September 30, 2019
Migration is a series of large-scale mixed media works produced by Miami-based artist, Gretchen Scharnagl, resulting from an in-depth review of the Deering Estate's natural areas and bird species in the past year. The series includes the works, Fall, Spring and Nesting that reflect on the migratory patterns of birds through the Deering Estate site during the titular seasons. To create these works, Scharnagl used found images of birds and maps from vintage maps and ornithological guidebooks strategically placed by location on to drawings of the tip of Florida. Scharnagl's meticulous, and recognizable drawing style is a contemporary rendition of the detailed, biological animal illustrations made popular during the Renaissance. Each installment within the series celebrates Scharnagl's varied interests through material exploration, converging elements of drawing and collage.
Scharnagl's new suite of collages emerge from her investigation of the Deering Estate as part of an important and active migratory corridor in South Florida. Working with Deering Estate Naturalist Rangel Diaz, Scharnagl identified over 100 species of birds that migrate through the area during the spring, fall and nesting seasons. In many ways, Scharnagl continues the tradition of representing animals as teachers of moral lessons that has been well utilized since the earliest traditions of art making.
Scharnagl's artistic process is a combination of sustained scientific inquiry into environmental issues and her adroit precision of form and composition. Central to the thematic of her practice is the social and environmental awareness she presents through each piece. The paper she used is sustainably sourced hand-made Lotka paper from Nepal, and she frequently employs found, and repurposed materials throughout her practice. Her works often address issues of climate change, rising sea levels and species extinction. The works in this exhibition serve as both diagrams and reminders of the sizable significance that environmental habitats have on a species.
The 7th annual South Florida One-Minute Play Festival
January 12 & 13, 2019
The 7th annual South Florida One-Minute Play Festival will feature brand new one-minute plays by Melissa Almaguer, Andie Arthur, Leah Barsanti, Ashley Diaz, Lucy Farrell, Jessica Farr, Rachel Finley, Sara Grant, Vanessa Garcia, Ann Gillespie, Lena Gonzalez, Chelsea Leather, Constance Moreau, Cherilyn Marrocco, Marj O'Neill-Butler, Gabs Obando, Kimberly Patterson, Elizabeth Price, Arianna Rose, Danielle Rollins, Lisset Riera, Dolores Sender, Deborah L. Sherman, Cathy Tully, Anna Victoria, Susi Westfall, Patricia Wolf, Wendy White and more!
The One-Minute Play Festival (or #1MPF) is America's largest and longest running grass roots theatre company, founded by Producing Artistic Director, Dominic D'Andrea. #1MPF is a social barometer project, which investigates the zeitgeist of different communities through dialogue, consensus building and a performance of 50-100 short moments generated by each community. #1MPF works in partnership with theatres and/or social organizations sharing playwright, educational or community-specific missions across the country. The aim is to create locally sourced playwright-focused community events, with the goal of promoting the spirit of radical inclusivity. #1MPF represents playwrights of different age, gender, race, cultures, and points of career. The work attempts to reflect the theatrical landscape of local artistic communities by creating a dialogue between the collective conscious and the individual voice.
"At this moment of political and social unrest, bringing together a community of artists to do the work that we love feels more important than ever – and we're proud to put the voices of women identified and non-binary artists at the forefront of this conversation," says Caitlin Wees of 1MPF.
The 7th annual South Florida One-Minute Play Festival is directed by: Ashely Diaz, Rachel Finley, Diana Lote, Constance Moreau, Lisset Riera, Danielle Rollins, Arianna Rose, and Wendy White. Curated and led by #1MPF Associate Artistic Director, Cailtin Wees.
2018
6th annual One-Minute Play Festival
January 13 & 14, 2018
"There has been an explosion of emerging artist groups who show a hunger and energy to examine the zeitgeist of this community through art, in sound-bite form," says Dominic D'Andrea, producing artistic director of the #1MPF. "It has been my privilege to work with this community for over half a decade, and I'm glad #1MPF and the Deering Estate continue to be at the forefront of this unique collaborative event."
The One-Minute Play Festival (#1MPF) is America's largest grass-roots community-engaged theatre festival, founded by Producing Artistic Director Dominic D'Andrea. #1MPF is social barometer practice, which investigates local narratives through dialogue, consensus building, and a performance of minute-long moments generated by each community.
The festival will feature works by Andie Arthur, Susan Westfall, Brad Beckman, Bob Bowersox, Carmen Pelaez, Brian Cohen, Steven Chambers, Jessica Farr, Barbara Fox, Vanessa Garcia, Glenn Hutchinson, Ivan R Lopez, Michael McKeever, Marjorie O'Neill-Butler, Kimberly Patterson, Michael Rutenberg, Juan C. Sanchez, DC Sendler,  Karen Stephens, Nicole Stodard, Cathy Tully,  Paul Tei, Phillip Williams, Patricia Wolf, Wendy White, Patrick G. Rodriguez, Lauren DeLeon, Greg Waters, Oliver Gorf, Desiree Mora, Zachary James Myers, Leah Barsanti, Anna V. Rodriguez, & Daniel Gil. Directed by Lisset Riera, Oliver Gorf, Patrick Rodriguez, Pete Rogan, Ashley Diaz, Wendy White, and more.
More on The One-Minute Play Festival
Johanne Rahaman: BlackFlorida: Perrine
February 1, 2018 – March 15, 2018
Trinidadian-born and Miami-based documentary photographer Johanne Rahaman, a recently-announced Knight Foundation Arts Challenge Grant recipient for this project, introduces the public to a nuanced view of Black neighborhoods. Rahaman's work underscores the urgency and importance of recording neighborhoods that are in a constant state of flux. Her most recent body of work, BlackFlorida, is an ongoing photographic archive of shifting urban and rural spaces occupied by Black communities throughout the state of Florida. This continuous project is conducted with both intimacy and care, providing an authentic, unabridged, and community-based body of work. Images consists of environmental portraits of individuals in their home and surroundings, and reflects the totality of human experience, including entrepreneurship, beauty, sensuality, aging, youth, and mortality. These everyday moments are too-often unseen by the wider community.
BlackFlorida: Perrine focuses on the historic community of Perrine, especially since 1949. That year, the town was dissolved by the all-white city council to protest the election of a black mayor, the community faced geographic racially segregation, and its story faded from view. This exhibition gives voice to this history and honors its contemporary citizens. In conjunction with witnessing such histories, Rahaman's work provides images that encapsulate the lives that have grown out of one of South Florida's first established cities. Rahaman was invited, as an expansion of her BlackFlorida project, to explore the Deering Estate's connection to the town of Cutler and the founding of Perrine. Her honest imagery captures the resilience of this historic South Florida community.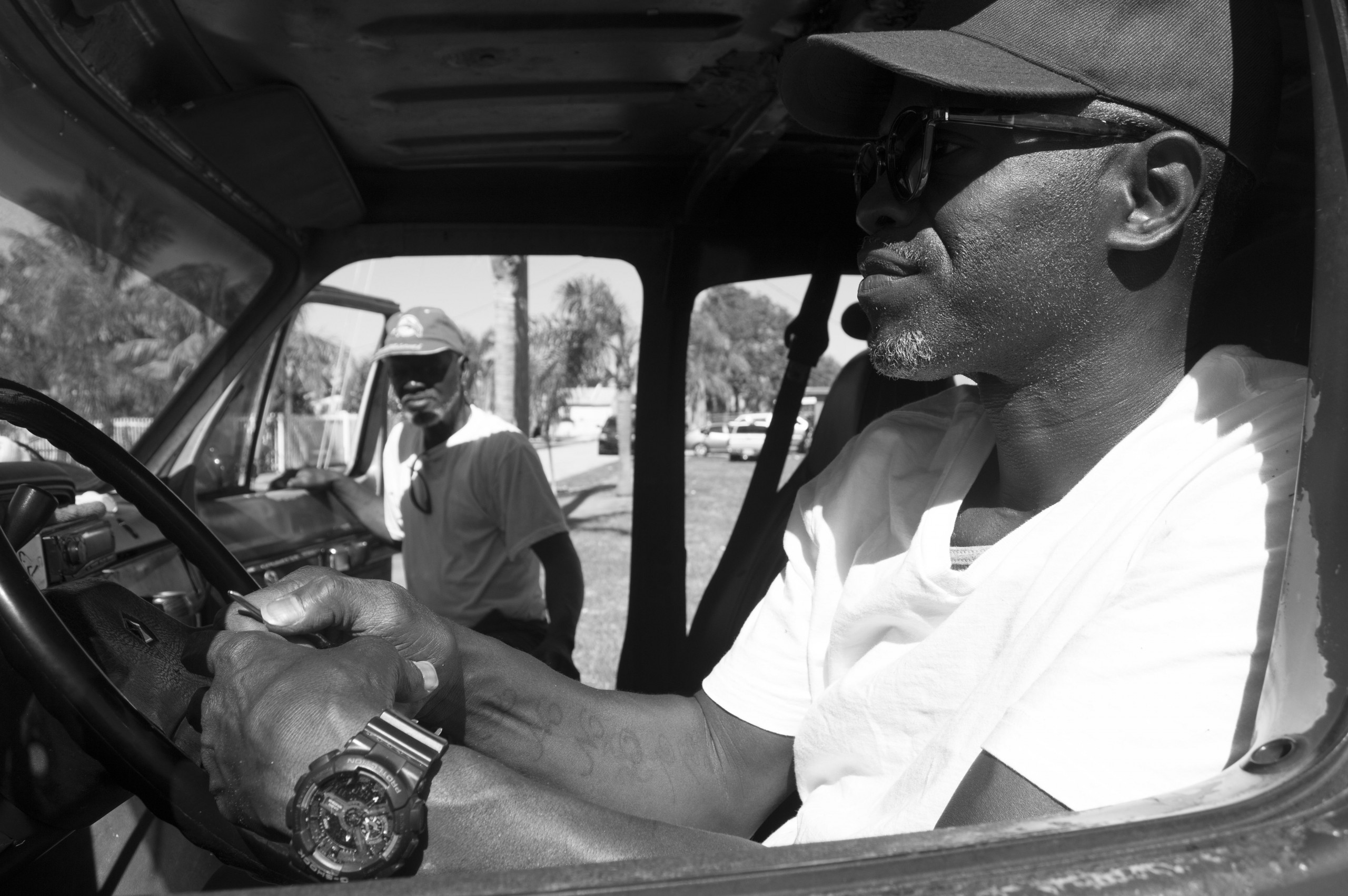 The Black Artist Talk & Film Premiere: The Richmond Heights 49ers
 February 24, 2018
Created by Michelle Grant-Murray, the "Black Artist Talk" is a series of conversations where artists of the South Florida African Diaspora community come together to generate ideas and discuss strategies for presenting works, seeking resources, and creating sustainability. Its primary aim is to utilize the power of the Arts to synthesize and nurture cultural understanding.
This iteration of the "Black Artist Talk" features Moderator Michelle Grant-Murray, Alumna Choreographic Artist-in-Residence at the Deering Estate and Founder and Artistic Director, of Olujimi Dance Theatre and MDC Jubilation Dance Ensemble; Documentary filmmaker, Jessica Garrett Modkins – Founder & Executive Director of The Historic Society, and Founder of Hip Rock Star, a trailblazing, award winning, advertising, marketing, and communications agency focused on socially conscious brands; and Ashley Beckno, Choreographer and MFA Candidate at Jacksonville University, Jacksonville, Florida.
"The Richmond Heights 49ers" is based on the book, Images of America: Miami's Richmond Heights by co-authors Patricia Harper Garrett and The Historic Society's Founder & Executive Director, Jessica Garrett Modkins. The documentary features intimate conversations with the community's pioneering residents and details the 1949 decision of the white developer, Captain Frank C. Martin, to build a self-sufficient community for Black World War II veterans
More on The Richmond Heights 49ers
2018 Miami Showhouse
April 15 – 29, 2018
The Miami Showhouse is a prestigious interior design event, spearheaded by the Junior League of Miami to highlight the historic beauty of some of the oldest residencies in the city, while raising funds for a foundation that focuses its energies on empowering Miami's women, children, and families, to conquer the challenges of tomorrow. Miami Showhouse brings together the innovative design techniques of our international city's design moguls. Deering Estate's historic houses with continue their legacy of grandeur and innovation through this biennial showcase.
Participating designers and firms include Elizabeth Ghia Interiors, Design and Style Unlimited, designer-in-residence Alfredo Brito, and Plume, that will take over the first story of the Stone House. The second floor has been given to Gallery Interiors, Robert Rionda Interiors, L'Excellence, RE$A, AC Styles Design, and Melinda Williams Interior Design. The Richmond Cottage with also be included in the Showhouse, as ERREZ Design, L.Lynn Interiors, Interiors by Maite Granda, Design Team Inc. (in collaboration with Pottery Barn interior design services), and The Polished Coconut are responsible for first story decorations. The upstairs portion of the Richmond Cottage was styled by Robb & Stucky, Mint Décor, Claudia Herrera, and ByDesign. Outdoor spaces are not left out! FIU School of Architecture decorated the picnic table area, while One Seed beautified the pathway planters, rounding out the experience.
The Junior League of Miami was founded in 1926, and is an organization of approximately 1,000 women who share a common interest in building a united community. Some members of the league are synonymously members of  The 100 Ladies of Deering, fortifying the philanthropic ties that elevate culture, history, and communal spaces within our city. The mission of the Junior League of Miami is to promote voluntarism, develop the potential of women and improve communities through the effective action and leadership of trained volunteers. Its purpose is exclusively educational and charitable.
JohnBob Carlos: Healing Waters
October 17, 2018 – January 5, 2019
JohnBob Carlos is a native Floridian and photographer capturing images of Florida's wildlife, landscapes, cultures, and waterways. It is his way of creating a voice for Florida's nature and preserving Florida's culture. JohnBob Carlos aptly titled the photographic series 'Healing Waters' stemming from his desire to move people to find self-healing from immersion in the environment and healing for our Everglades and waters systems. With vibrant images of the Everglades waters, he hopes that the viewer find an image that serves as a Totem to inspire healing in their lives. "May these images serve as a reminder of the natural beauty that is here now and can be saved for future generations" (JohnBob Carlos).  In recent years he has become deeply concerned about the state of Florida's nature, alarmed at the devastation of these areas, mostly due to money, development, pollution, business, and politics. Although his focus is photography, his role is in a state of evolution due to desires to defend Florida's wildlife, and stand up for nature through the use of his art and advocacy.
Honoring founder Charles Deering's role as an early naturalist and environmental advocate, this exhibition brings to light the contemporary artist's role in advocacy and action to save Florida's natural waters, preserve sacred spaces, and reconnect people to the land. The images captured by Carlos are rich with magic, inevitably present within the unique biomes of the Everglades and transfers this feeling through the stills of his work. Reflective, multicolored waters among cypress, mangroves, rising and setting suns evoke the sense of change and a space for self-reflection.
The journey of healing catalyst by JohnBob Carlos's photos is complete with accompaniments of dance, music, and prayers. Fellow artist, and artist in residence, Michelle Grant-Murray (spearhead of Olijimi Dance collective) performed at the opening event. Supplemented by the music and prayers with Wayne William Snellgrove, the entirety of the evening was captured on video by Cuban Artist/film maker Elizabeth Ramirez Chacon.
2017
Borders of Paradise: The New World in the Eyes of Explorers
February 9, 2017 – March 25, 2017
Borders of Paradise calls attention to the factors about Florida's landscape, resources, and location that made it attractive in the eyes of Explorers. The exhibit includes historic objects, prints, maps and color-plates of Florida and other "new territories" from the 16th through 18th centuries. Primary renditions of our native peninsula were often faltering or skewed to the manner in which map makers and artists would come into contact with the information they were expected to convey. However, through history it is learned that pursuits on Florida, and lands far beyond it, experienced this reality for centuries. It is miraculous that Charles Deering's plot of land on Biscayne Bay was in the near pristine condition by which he first came to learn it.
Charles Deering fell in love with the land fueled by the desire to preserve it, leaving a legacy of conservation and appreciation for nature on the 450 acers of the Deering Estate. Some of the scenes rendered throughout Border of Paradise are reminiscent to what Charles Deering would have experienced during his time in Florida. While he was a Chicago man, he was exposed to the artistic and cultural wonders of the world through his travels and was still drawn to the mangrove shores of where his final residence would lay. Borders of Paradise offers a visual token that ties early themes of curiosity that to this day may still pervade within the sub-tropical, perceived paradise of South Florida. On loan from the Museum of Arts and Sciences in Daytona Beach, this exhibit is an opportunity to explore past and present perspectives through the imagined narratives of native peoples during early European contact.
More on MOAS (Daytona Beach, FL)
Platform 450
April 22, 2017 – June 26, 2017
Part of the annual Deering Spring Contemporary, Platform 450 offers visitors an opportunity to experience artworks converging on the exploration of scientific data and new technologies as they relate to the natural and historic site. Platform 450 presents a transdisciplinary initiative and thought-provoking exhibition of site-specific works by more than two dozen notable contemporary artists. Each participant has utilized the 450 acres of the Deering Estate for interaction and inspiration.
Participating Artists include: Priscilla Aleman, Dan Alvarez, John William Bailly, Frida Baranek, O'Neal Bardin III, Mark Diamond, Eddie Dominguez, Maxwell Hartley, Peter Hosfeld, Carol Jazzar, Charles Lindsay, Richard Medlock, Luciano Rabuske, Gretchen Scharnagl, Skip Snow, Kyle Trowbridge, Freda Tschumy, Keith Waddington. Additional participants include Danni Washington, co-founder of Nu Blue & You, Barron Sherer and Kevin Arrow, co-founders of Obsolete Media Miami, Willie Avendano, founder of 01, Kenny Finkle with Stephanie Ansin, Hannah Benitez, Stephen DiBenedetto, Vanessa Garcia, William Hector, Scott Palmer, and Michael Yawney.
Featured works include Sound Guide, an enhanced digital map that guide the audience through with acoustic renderings reflective of the Estate, by artist duo Emile Milgrim and T.Wheeler Castillo that take the title Archival Feedback. They take the name 'Archival Feedback,' and through their work the pair engages with critical dialogues between the ecosystem and the moments they exist within. Tangled, by Home Elven design collective Nelly Bonilla and Oscar Luna, produced an interactive, web-like environment through plastic materials to comment on the effects that man-made materials have on wildlife and water ecosystems. Global artist Xavier Cortada presented 5 Actions to stop Sea Level Rise, previously completed during a residency at the Rauschenberg Studio (Captiva, FL) to expose irony in the lack of action being taken by the state of Florida to address the detrimental effects of climate change. Ian Honoré and his work MIAMI2120 provide a virtual environment created through data-visualization of Peter Harlem's preliminary maps on projected sea-level rise.
Twelve Summers & Capturing Brazzdance
July 15th — September27th
Twelve Summers features GroveHouse Artists' paintings and watercolors from their 12th season of collaboration with the Deering Estate and included works from the January 'Affair en Plein Air' juried painting event. In Capturing Brazzdance, photographer Carlos Di Roberto Martinez documents the choreographic and performative works from Augusto Soledade's Brazzdance 2016–2017 season. This initiative invites photographers and visual artists to capture the company's work beyond the fleeting moment of performance.
GroveHouse Art is an eclectic group of artists that have been exhibiting throughout South Florida since the 1970's, distilling a sense of Miami's unique artistic flavor for decades. The artworks they exhibit represent the sub-tropical landscape of Florida, through representative and abstracted renditions of flowers, architecture, animals, and nature characteristic of the city. Members volunteer their time to help promote community art events, cultural programs, and fellow artists by working together. This year's exhibition is organized by Barbara Tejada and Judy A. Brown with exhibiting artists, Linda Apriletti, Beverly Borland, Rosie Brown, Jim Bushell, Jennifer Buttrick, Sarah Carmenate, Judith Chesher, Perri Cox, Ann Danoudy, Marissa Diaz, Carlos Galves, Pauline Goldsmith, Lizzie Hunter, Carol P. Kingsley, Ana Llaurado, Gerald Obregon, Sushila Oliphant, Melanie Padilla, Gail Schrack, Barbara Tejada, Jeanine Watkin, Beth Werner.
The multifaceted event encompasses a variety of mediums that relate to all aspects of emerging and fine arts, a deep interest of Charles Deering's. However, the installments included in this 2017 showcase reflect the community in which they exist. Performances choreographed by Augusto Soledade of the Miami dance company provide a year's worth of Afro-fusion movements that have been immortalized, captured through the lens of Carlos Di Roberto Martinez. Augusto Soledad has employed Brazzdance as a vessel, a space to create content that considers various cultures through the diverse makeup of the dance company. Award-winning, Brazilian American photographer, Carlos Di Roberto captures Soldedade's interventions with a keen eye to spot the beauties of a nuanced community, a practice that is found throughout his body of work.
More on Carlos Di Roberto Martinez
Christina Pettersson: Mythology + Site
October 18th 2017— January 5th 2018
Mythology + Site, a solo show by artist Christina Pettersson, responds to the Deering Estate's ongoing interpretive theme of man's connection to his environment and takes inspiration from founder Charles Deering's lifelong attraction to the coast and ocean, from Biscayne Bay to the Mediterranean Sea. Moreover, Deering's decorative art collection is rich with imagery that includes fantastical beasts, ancient Greek mythological references, and Christian iconography. Many of the historic artworks, carved directly into the architecture, embed the site with myth and lore.
Christina Pettersson the Swedish-born, Miami-based artist, and Alumna Artist in Residence at the Deering Estate (2011-2012) explores resurrection and savage demise on a grand scale once reserved for history painting. Her drawings, sculptures, and most recently performances, reference classic mythology and literature, revealing a deep allegiance to the wilderness of a bygone era, the sorcery of the night, and the experience of a world in decline. It is a stage materialized from the often brutal but beautiful landscape of her hometown, which she has spent a lifetime exploring.
She writes, "As my roots in the South have grown so has the landscape. Where I am and what my unique terrain means matters more and more. It is not a backdrop. A voracious reader of local history, as well as an avid naturalist, birder, explorer, and wild thing, I am most alive when I am inside the scenery, tramping the landscape barefoot and muddy.  I long to restore that epic and mythological dimension, a sense of awe and reverence for the world. The fact is they are not much about my personality. I want to be a storyteller. I want to believe that life is still wild." The exhibit features an impressive 24-foot-wide drawing of architectural ruins, inspired by historical ruins like Tamarit, a Spanish fortress restored by Charles Deering in the early twentieth century.
See also: Artist in Residence Program.