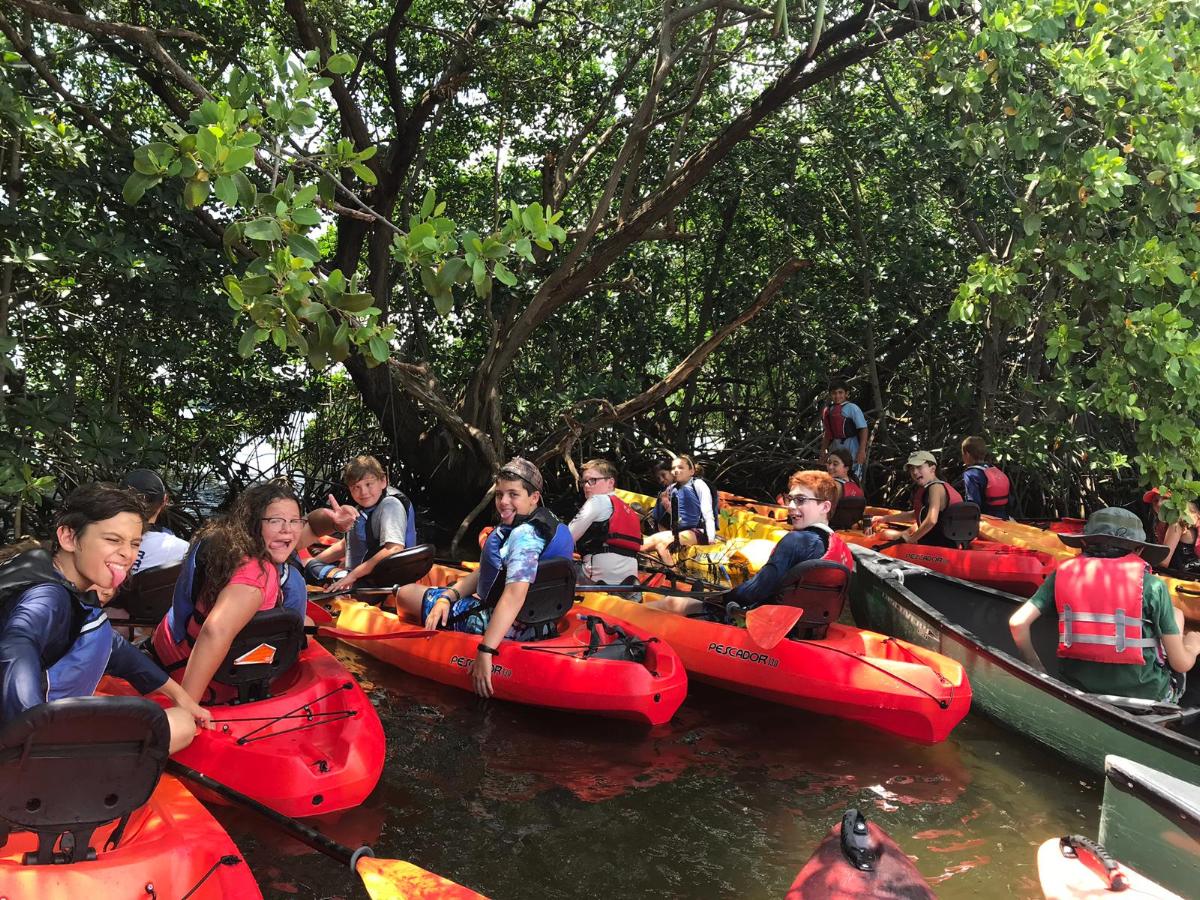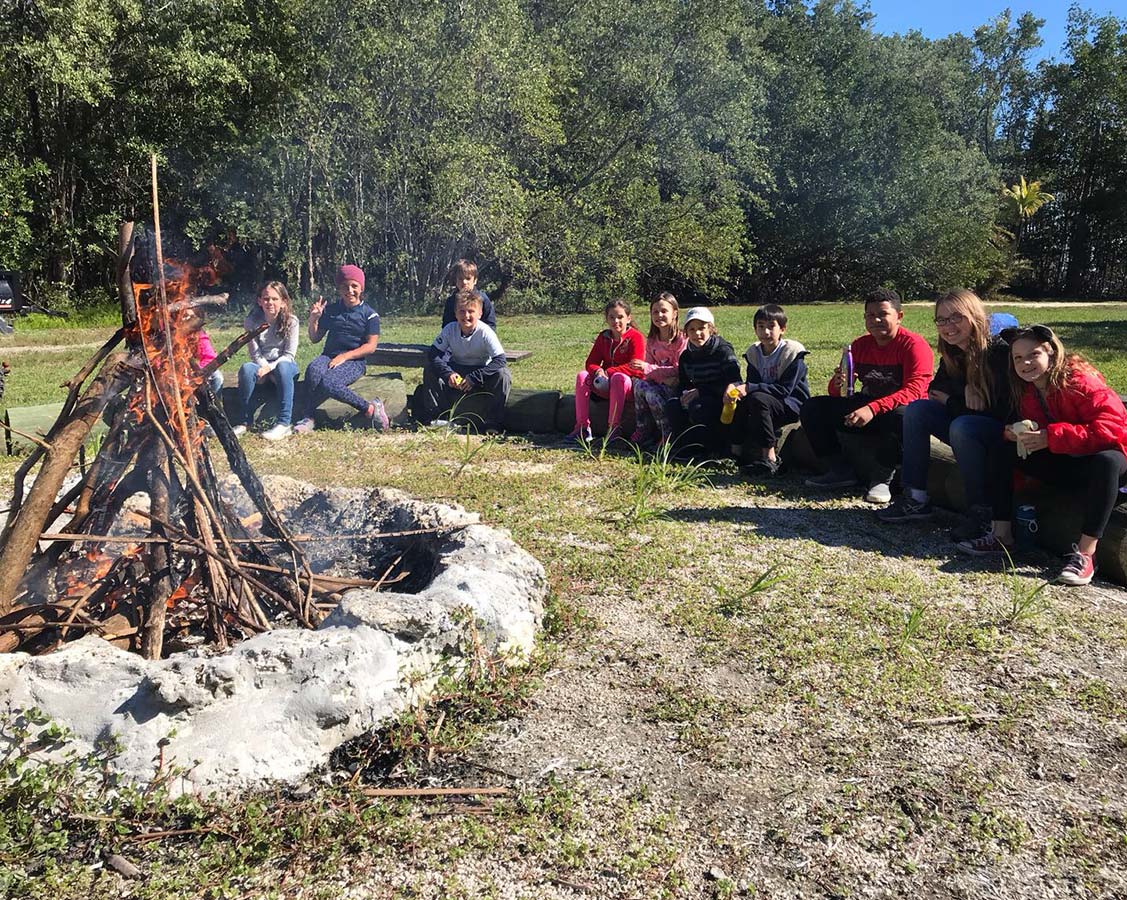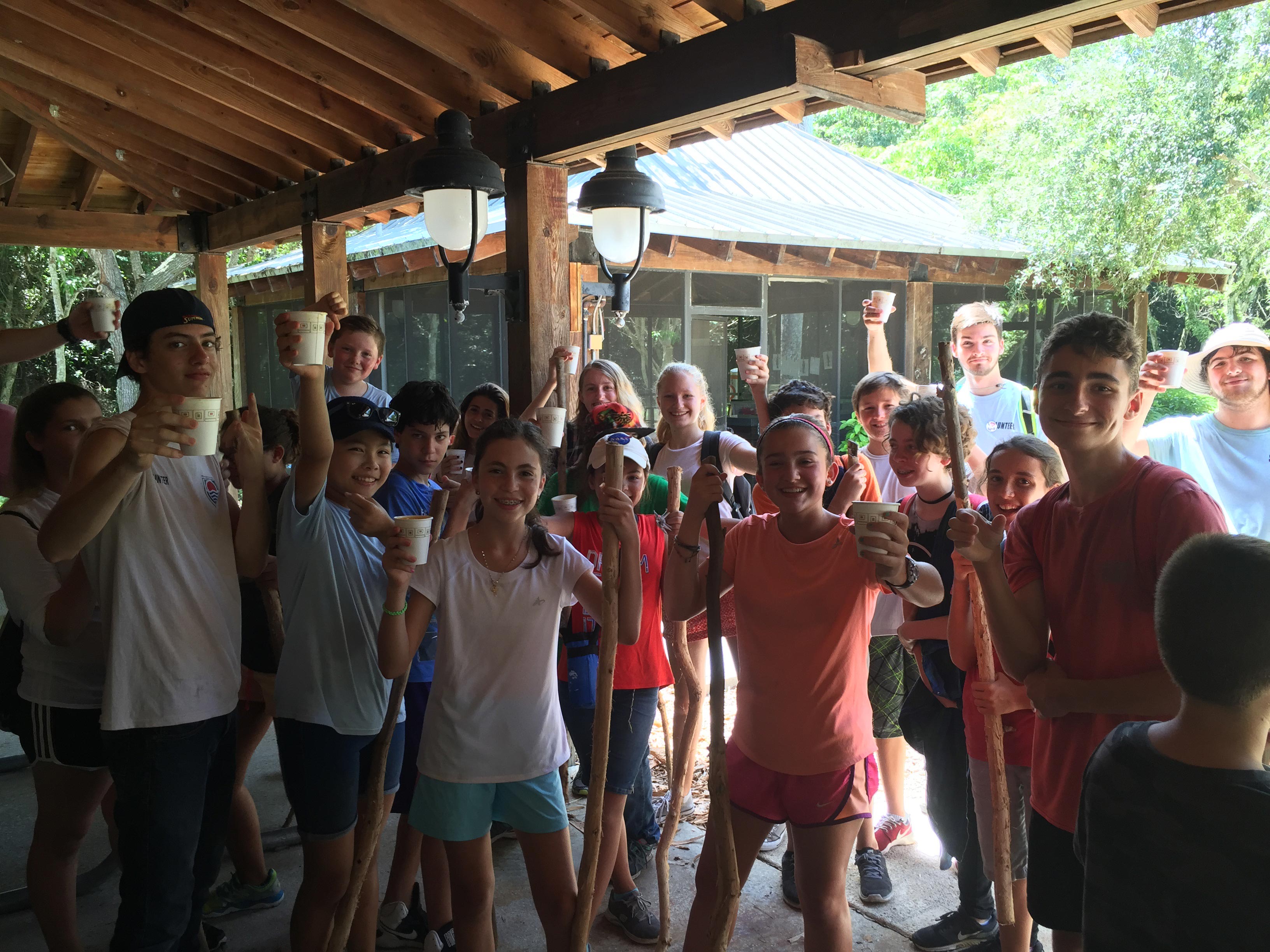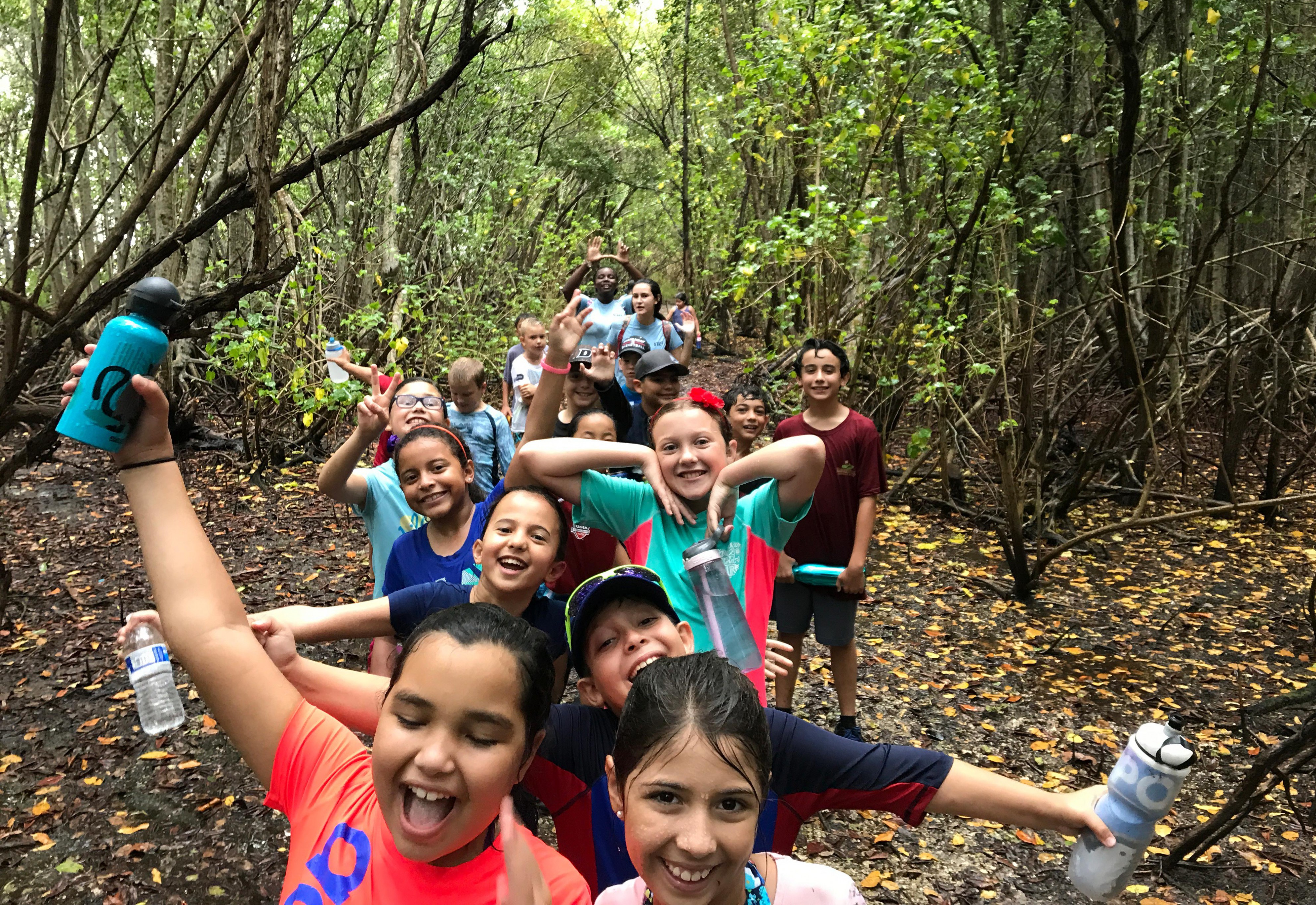 The Learning Program's Seasonal Nature Camps are offered during select Teacher Planning Days (Mini Camp) and over Winter, Spring, and Summer breaks, aligning with Miami Dade County School's.  Our camps aim to connect children to nature by allowing them to experience it first hand. Campers, ages 6-14, will dive into the mission of Deering Estate as they explore, learn, and become environmental stewards. Every camp session has a different theme and explores a different aspect of nature, allowing campers to have fun while also learning about different fields of science. With a diverse array of ecosystems that capture the essence of Florida's wilderness, we encourage every child's inner explorer. Hiking, biking, planting, kayaking, canoeing, snorkeling, swimming, dissecting, and discovering the endless possibilities at our 450+ acre park.
Mini Camp: The Deering Estate offers one-day camps on select teacher planning days, as scheduled by Miami-Dade County Schools.
Winter Camp: The Deering Estate Winter Camp aligns with Miami Dade County School's scheduled winter break.
Spring Camp: Our Spring Camp aligns with Miami Dade County School's scheduled spring break.
Summer Camp: Out of 365 days, there are 50 days of summer reserved for pure fun. At the Deering Estate's Summer Camp, we expect to make the most out of those 10 weeks of camp! Rain or shine, we will spend our time exploring the best nature has to offer. During the week long summer sessions, the campers will get the chance to hike, play, and discover how they can contribute to the protection of our protected natural areas. The Deering Estate's Summer camp aligns with Miami Dade County School's scheduled summer break.
COVID 19 – PROS Summer Camp FAQ
Frequently Asked Questions
GENERAL CAMP REGISTRATION QUESTIONS
Q. When will summer camp program changes be announced?
A. The COVID-19 situation changes daily. We are monitoring federal, state, and local health agencies. Our teams are also following local health authorities who are providing additional guidance. We are planning for summer camp programs to happen as scheduled at approximately a 25% capacity. We will also offer a virtual programming available at your convenience to assist parents and employers who are choosing to care for youth at home or in the workplace. Outdoor areas will remain open in most parks throughout the summer for your enjoyment, but the general public will be restricted from accessing areas designated for summer camp programs. We recognize our community's youth have been inside too long and are looking forward to getting out side and enjoying the summer starting in June.
Q. If "Safer at Home" orders continue into June or July how will that affect June programs?
A. June camp sessions are being evaluated on several factors, including staff availability, time needed for necessary training, site readiness for additional health and safety guidelines, and elements of regular camp set-up. At present, most camp sites are planning on an opening for June 8th at 25% of previous year's capacity with community health and safety as a priority. If "Safer at Home" orders continue through June and later, or if early sessions of summer camp are postponed or canceled, individual sites will contact parents, emails and social media will be updated to reflect the changes. Parents will have an opportunity to register for later sessions, or apply existing registrations for early sessions to later sessions. If camper(s) are unable to attend one of the later weeks, with advance notice and based on our regular cancellation policies, refunds will be issued.
Q. With limited capacity at camps, how will registration priorities be determined?
A. Miami-Dade County camps will accept registrations on a first come first served basis for those parents that have registered their youth in our programs previously. As businesses re-open, all of our communities' workers are considered essential workers, however priority will be given to health care providers and first responders. Individual sites will maintain a waiting list based on inquiries and registrations within these priorities until the day before a camp session opens. At which time, an email will be sent with a notification if your child(ren) have been accepted for the week or if the site has met its capacity. Registration forms must be completed before the start of the first day of camp. No walk-ins will be accepted. We encourage those who can keep their kids safer at home, to continue to do so. It is the safest option for care in preventing the spread of contagious diseases in a community. We encourage families to review any opportunities they may have for alternate childcare, such as taking children to work, using employer sponsored childcare options, or other options like community caregivers, neighborhood parents, or nannies. Best practices for child and family care include limiting camp registration, travel, and interactions to neighborhoods and regions with a similar level of community spread and those that are in the same Phase of re-opening. Parents/Caregivers are encouraged to inquire with and register their kids only in programs that their child(ren) have attended in the past that are within their local communities.
Q. What additional supplies will my child need to attend this year's summer camp?
A. All sites will require a list of personal items to be brought from home daily to include – a face covering, personal water bottle, sunblock and insect repellent, any personal hygiene items (wash cloth, soap or hand sanitizer), any medications, and any specialty items required by your individual camp. All medications must be listed on the registration form with instructions on how to administer the medication.Please also bring a bagged lunch and snacks. These items should be labeled with the child's name; individual storage space will be provided, and these items will not be shared with other campers.
Q. Will virtual camp be offered for those parents who do not wish to send their child to camp?
Yes. Various virtual lessons and activities – virtual field study trips, arts and craft activities, and recreation and fitness programs – that you can use at your convenience will be offered online through the PROS website to assist parents and employers who are choosing to care at home or in the workplace. Additional virtual camps will be offered at a reduced fee by some sites once initial camps open. Outdoor areas will remain open in most parks throughout the summer for your enjoyment. We recognize our community's youth have been inside too long and are looking forward to getting out side and enjoying the summer starting in June.
Q. Will Campers go on field trips?
A. No field trips are planned at this time, but may be considered at a future time if community guidelines change. Additional factors, including transportation, will need to be in place in order to consider any fieldtrip options, and activities may be limited. All summer camp activities at this time are scheduled to take place at the site the camper registers. Any updates to summer camp activities that may take place off-site will be shared with parents/caregivers in advance for their consideration during the registration process. Plans and locations for field trips must adhere to guidance related to group size, use of masks, social distancing, and enhanced cleaning and sanitizing processes.
Q. How pool use and swimming in the ocean at nature camps be affected by the enhanced health and safety practices?
A. Pools are not scheduled to open during the beginning of summer but may be considered in future reopening guidelines. The requirements on group size – no more than 10 children/counselors in one area – will apply when children are engaged in swimming or other water-related activities. Groups must abide by social distancing guidelines, whether in the water or on land. When engaged in strenuous activities, such as swimming, a 10-foot social distance must be maintained (6 feet + 4 feet for movement) during the activity and until their face covering is worn. Continuous wearing of masks or cloth face coverings by staff and camper is not required in outdoor designated areas and in workspaces where staff do not regularly come within 6 feet of others.
Q. What about transportation?
A. At this time, the current guidance regarding group sizes, wearing of masks, and social distancing would also apply when children are being transported while in the care of the camp. Enhanced cleaning procedures would also be required between groups if multiple groups of students are being transported using the same vehicle.
HEALTH AND SAFETY
Q. What health and safety procedures are youth camps required to follow during COVID-19?
A. Enhanced health screening and sanitizing procedures, social and spacial distancing, use of face coverings indoor and passive outdoor activities, use of cohort groups of no more than 10 campers and counselors, and no sharing of designated equipment, camp supplies, and campers' personal supplies and spaces. Limited sharing with gloves and frequent disinfecting may be needed for some outdoor and recreational activities.
Q. Will I or my child be required to complete a health screening or be tested for COVID-19 prior to registering for camp?
A. We understand your concerns. We will not require a health screening or COVID-19 test prior to camp start. We will conduct daily wellness checks on children at drop off including – checking the temperature of children and asking standardized CDC screening questions for adults regarding their children's health. Children with a temperature > 100.4 or whose parent/caregiver answers "yes" to screening questions will not be permitted to register their child into any of our summer camps, and will be prevented from entering park facilities or the summer camp programs, unless their child has been cleared by a doctor, and written proof is presented as part of the screening process. Children who exhibit physical symptoms of an upper respiratory illness (coughing, sneezing, running nose, fatigue, amongst others) will be sent home, will not be permitted to attend the program that day and are highly recommended to be monitored according to CDC guidelines.
Q. What are your plans to clean and sanitize camps?
A. Keeping camp areas clean is everyone's responsibility. We have updated and enhanced park and camp program cleaning policies, which includes more frequent cleanings and disinfecting of highly used surfaces including tables, door handles, other surfaces, sports equipment and camp supplies, and other items used by campers. The public will be limited in their access of summer camp designated spaces, equipment and supplies used by campers. And, campers and employees are receiving regular training on best practices in personal hygiene in accordance to the CDC guidelines.
Q. Who is guiding your camp health and safety plans?
A. Like many communities, advice and counsel is at the highest level. Camp program managers and Miami-Dade Parks Department leadership are receiving guidelines and instruction from the Mayor's Task Force, which is comprised on health experts who liaison with the national and MDC Center for Disease Control (CDC) as well as selected individuals from the medical, legal, safety, and insurance fields. This Task Force routinely reviews all elements of PROS Summer Camp health and safety protocols as they pertain not only to camp, but to all our programs and operations. They are working diligently to provide our community and our parks with additional guidance specific to the summer program operations and the current COVID-19 situation.
Q. What are the limitations on group sizes for youth camps and who is included as a part of the group size?
A. Following MDC Executive Order No. 20-21 youth camps must limit group size to no more than 10 (children, counselors in training, and/or counselors). The group size requirement is for all camps — including sport camps, general camps, nature and accessibility camps — whether indoors or outdoors.
Q. Will everyone be REQUIRED to wear face coverings as part of the Summer Camp program?
A. Yes, with few exceptions. Campers and counselors will wear face coverings when indoors at all times and when transitioning between indoor and outdoor spaces. Face coverings can be removed when engaged in strenuous outdoor activities, when social distancing can be achieved, and when eating. Parents/Caregivers (and all persons in the vehicle) are asked to wear face coverings at all times when registering, dropping off and picking up your child from camp. We ask that everyone wear face coverings in parks in accordance with Order No. 20-21.
Q. What are the social distancing guidelines for summer camps?
A. Individuals and groups must be spaced at least 6 feet apart during stationery and mobile activities.
Q. What are you doing to prevent someone from bringing COVID-19 into camp?
A. First, individuals and families must monitor their personal health, family situation and not let anyone displaying symptoms of COVID-19 or who has been around anyone with COVID-19 symptoms attend summer camp. Per PROS policy, all employees and summer camp attendees receive an individual health questionnaire and symptom screening upon arrival to the camp site as part of daily check-in. These screenings apply to camp staff, participants, and adult leaders. Individuals who do not pass the a.m. daily screening will be sent home. Each site has completed a COVID-19 Emergency Readiness site Re-Opening Checklist that includes additional health and safety standards to help prevent the spread of contagious diseases. Use of face coverings, social distancing practices, enhanced cleaning schedules of activity spaces, restrooms, eating areas and supplies and equipment, and the use of cohort groups are best practices announced by the CDC and MDC to include in re-opening guidelines.
Q. What if there is a confirmed case of COVID-19 among the children, staff, or families?
A. In the event of a suspected or confirmed COVID-19 positive individual, prompt action defines the "inner circle" of a cohort group (those within 6 feet for more than 15 minutes) as a "close contact" for contact tracing, isolation, and additional health monitoring. If a staff member or camper within a cohort groups is identified as having a potential or confirmed case of COVID-19, the individual will not be permitted to come to camp for work or as a participant. If a staff member or camper begins to show symptoms of an upper respiratory ailment, the individual will be isolated in a location previously identified as part of the camp's communicable disease plan (CDP). Arrangements will be made for the staff member to return home or for additional medical evaluation. Confidentiality as well as prompt communication and care is important at the individual and contact tracing level. The individual staff member or camper will not be permitted to return to camp until they are cleared by a medical professional. Parents of campers in the cohort group will be notified at pick up that a staff member or camper was sent home because they showed symptoms of an upper respiratory ailment and asked to monitor their camper. It will be up to the parent's discretion if they choose to have the child continue with the camp program. Refunds will be issued upon request. Sources and additional layers of "low-risk" contacts are identified in the "outer circles" of the cohort group interactions and may or may not include other camp groups. These groups will be notified as necessary, using the small group and cohort strategy. Contact tracing can be undertaken promptly by trained professionals and in coordination with local and state health resources, with isolation and health monitoring implemented expediently. In addition, employees are to follow all County HR protocols for care in accordance to CDC guidelines.
Q. Where can I go for additional information on Health and Safety best practices for my children during this summer?
A. In order to provide a safer and responsible environment to serve children and families in Miami-Dade County and to deliver services in the "New Normal" for childcare facilities, summer and sports camps, and after school programs adhere to the following guidelines and regulations from:
Deering Estate Summer Camp FAQ
Frequently Asked Questions
Q. What kinds of activities will my camper being doing?
A. We are a nature and science based camp, and each session of camp has a different theme which the activities will be aligned with. The themes change from session to session (examples include themes dedicated to Mangroves, the Ocean, Pine Rocklands, and Wilderness Survival), but all weeks of camp will include a hike, and experiments related to the theme.
Q. What should I send with my child to camp each day? How should they be dressed?
A. It is important to send your camper to camp prepared each day for the planned activities. It is required for your camper to bring with them a refillable water bottle and their lunch each day. We do not provide lunch or snacks to campers and there is no onsite location to purchase either food or snacks. If your child comes to camp without lunch and you are unable to arrange someone to bring the lunch to camp we will call you and arrange to find a lunch solution. It is recommended to bring snacks, extra clothes and closed toe shoes, a hat, sunscreen and bug spray. Campers cannot wear open toed shoes (including sandals) or Crocs at any time. We recommend they dress appropriately for the activities and the weather, however for hikes we typically recommend long sleeved shirts and pants (which can be changed out of after hikes) in order to avoid mosquito bites.
Q. How much time will my child spend outside each day?
A. While we are a nature based camp, we do understand that South Florida brings along higher temperatures. For that reason, campers are typically only outside for half of the day. To combat the heat while outside, we encourage campers to drink water as often as possible, and we provide water jugs to refill their bottles when they run out.
Q. What does the camp do when it rains?
A. South Florida weather can be unpredictable; however we are a "rain or shine" camp. If a scheduled activity is interrupted by thunderstorms, we will have indoor activities aligned with the theme of the week that can be conducted as a substitute. Whenever possible, we will return to the originally scheduled activity after the weather has passed. If it is not possible to complete the activity that day, we will try to include it on one of the following day of that same week.
Q. Are there going to be a lot of bugs?
A. Bugs, including mosquitos, are plentiful in South Florida. While we cannot predict how many bugs there will be each day, we recommend that campers always come prepared for their presence. This means that for hikes, we recommend that campers wear long sleeves and pants, which they can change out off after the hike. We also request that campers come prepared with bug spray.
Register online below or call (305) 235-1668; press 9, then dial extension 233
(7 days a week / 10AM – 4PM)
Camp Sign-in: 8 am– 9 am
Camp Hours: 9 am – 4 pm
Camp Sign-out: 4 pm to 5 pm
Sign-in for all campers is located in front of the Visitor Center
Sign-out for Eco (ages 6-8) is located in front of the Visitor Center
Sign-out for Expedition (ages 9-14) is located in front of the Main Gate on SW 72 Avenue
2020 Required Forms: Click HERE