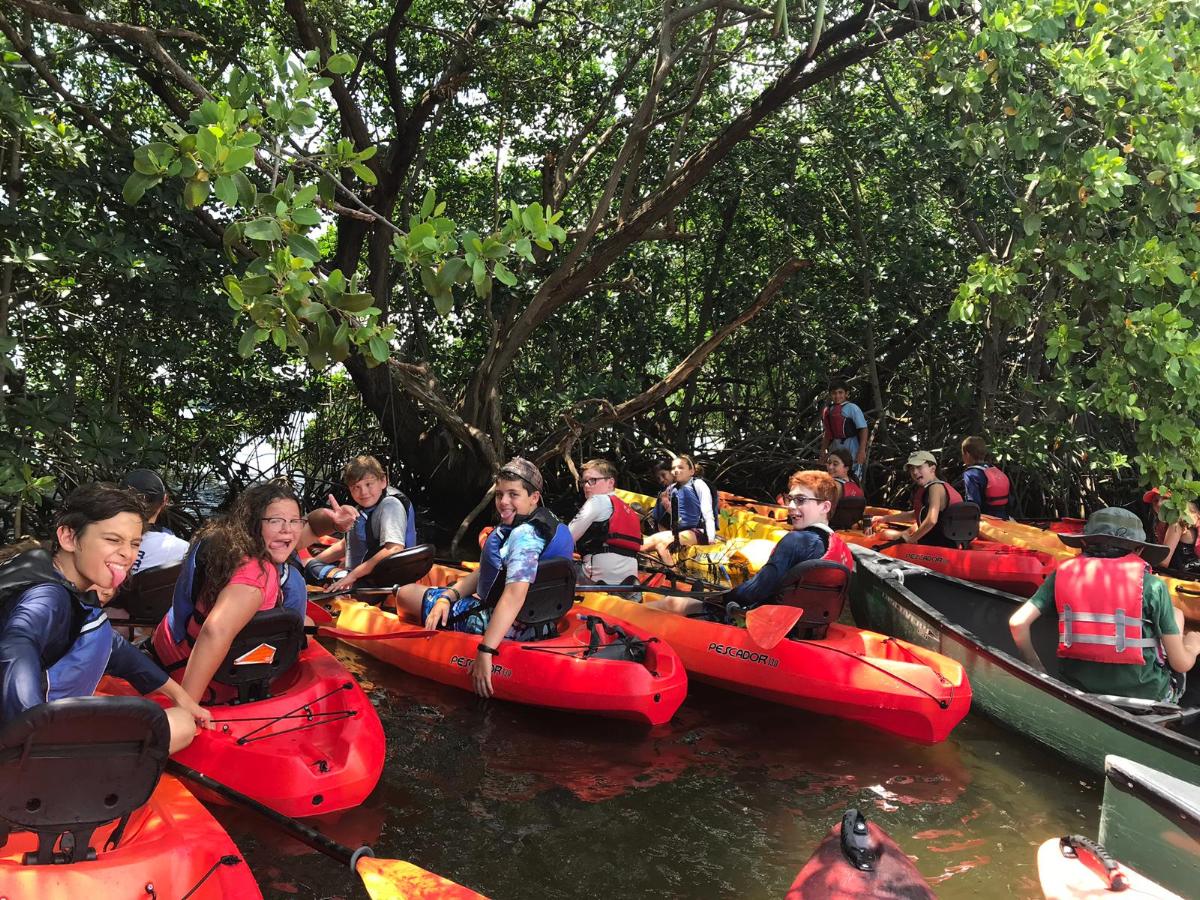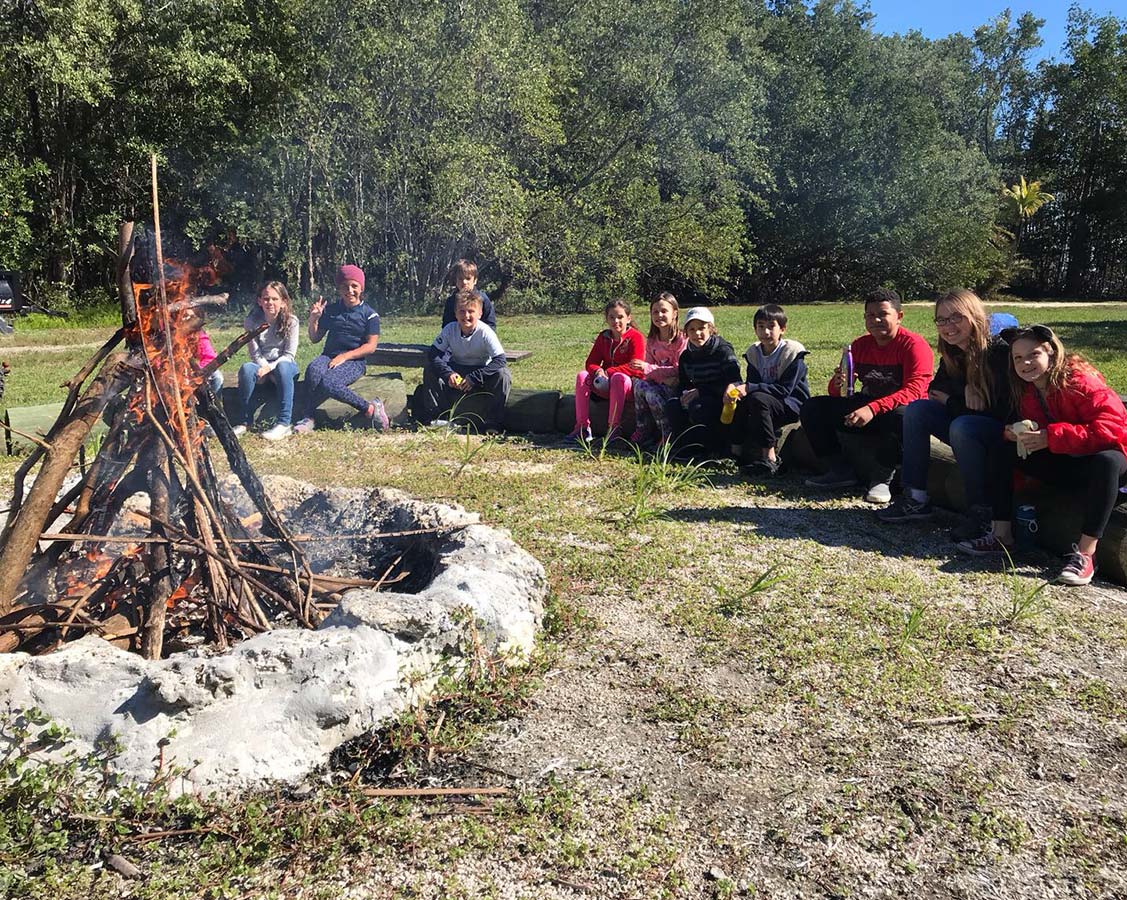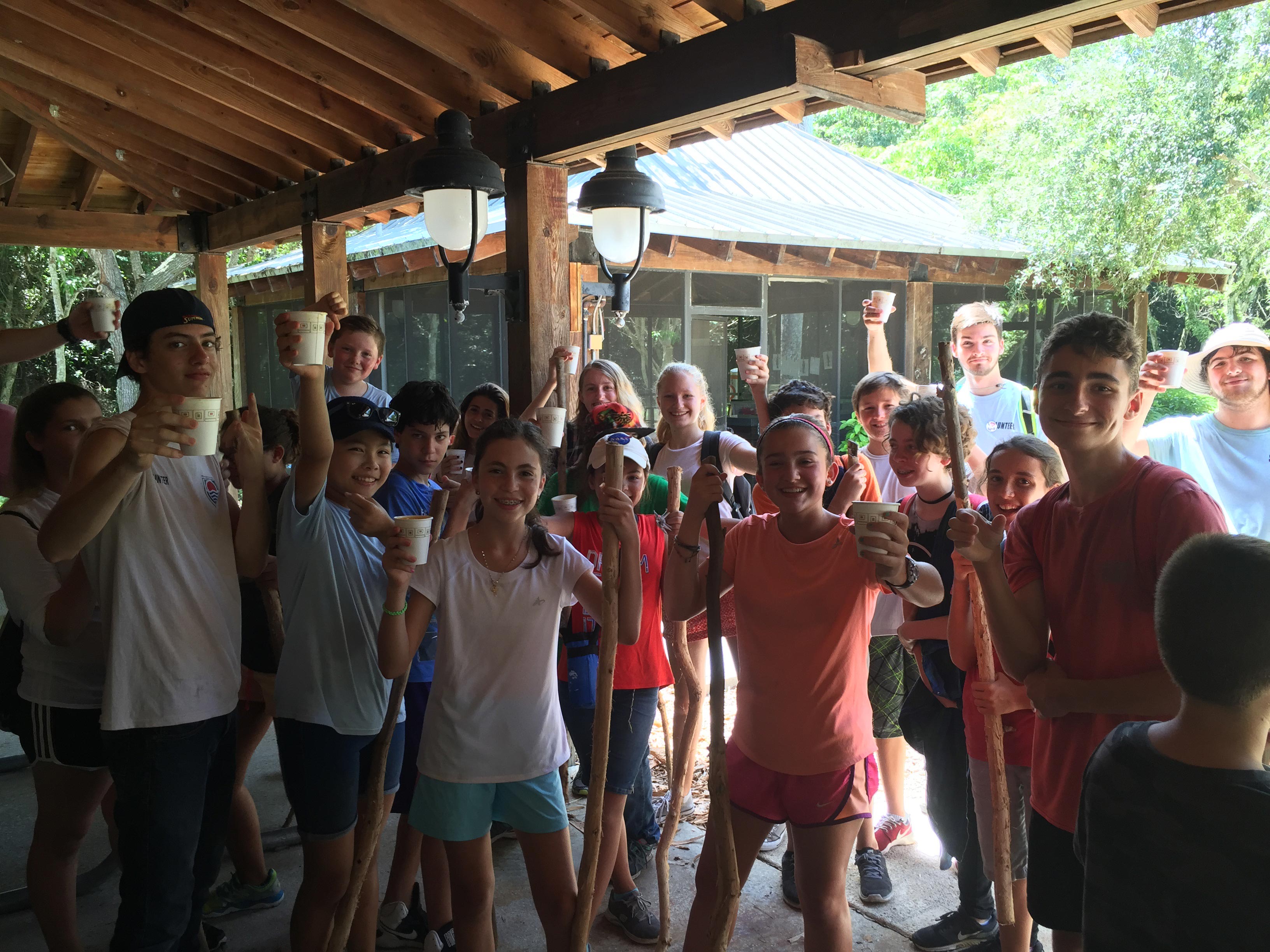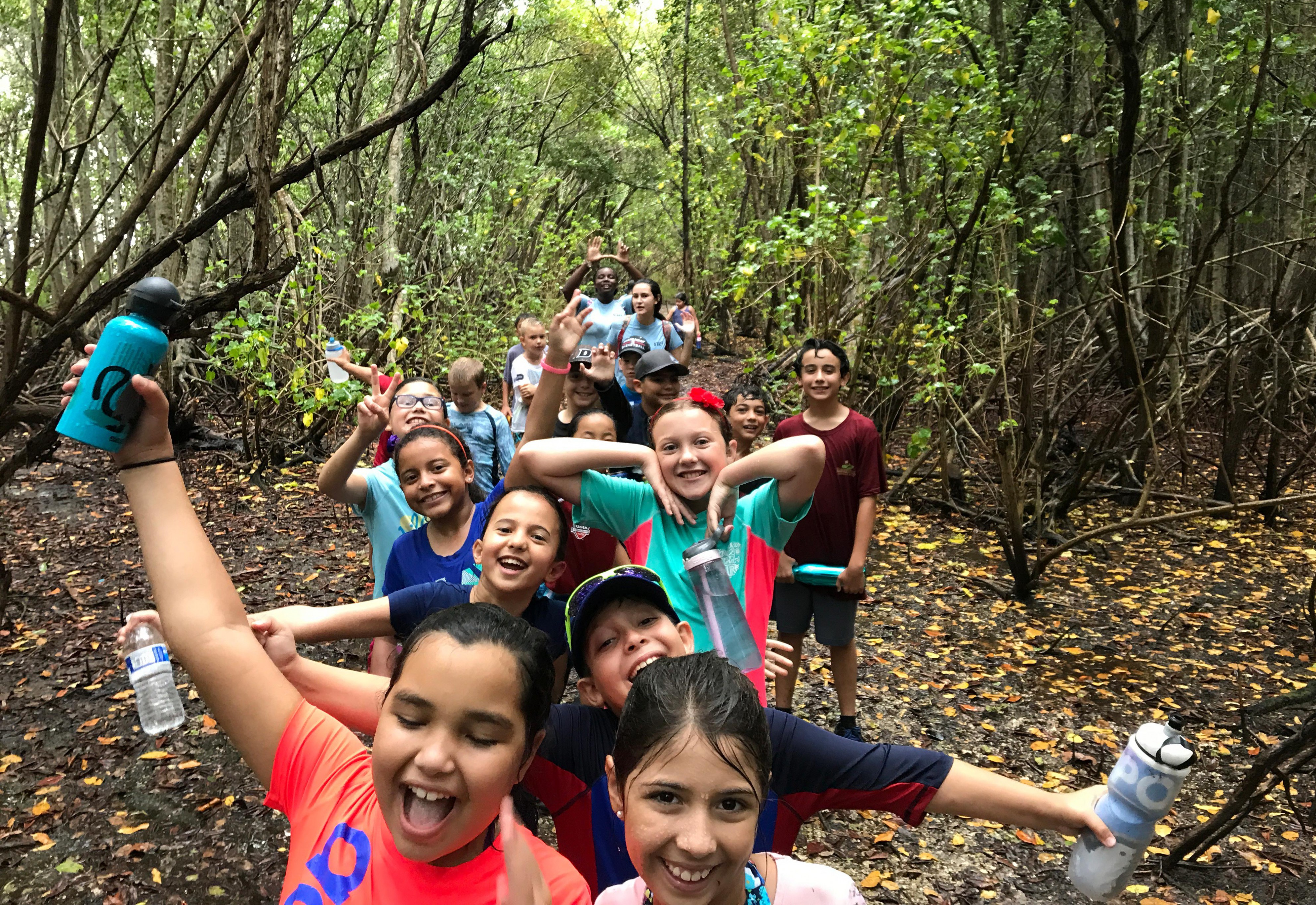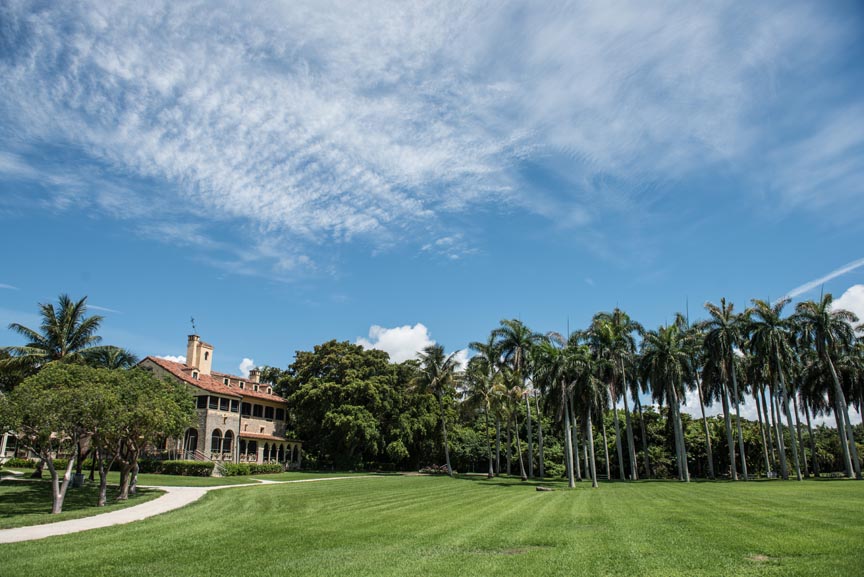 The Learning Program's Seasonal Nature Camps are offered during select Teacher Planning Days (Mini Camp) and over Winter, Spring, and Summer breaks, aligning with Miami Dade County School's.  Our camps aim to connect children to nature by allowing them to experience it first hand. Campers, ages 6-14, will dive into the mission of Deering Estate as they explore, learn, and become environmental stewards. Every camp session has a different theme and explores a different aspect of nature, allowing campers to have fun while also learning about different fields of science. With a diverse array of ecosystems that capture the essence of Florida's wilderness, we encourage every child's inner explorer. Hiking, biking, planting, kayaking, canoeing, snorkeling, swimming, dissecting, and discovering the endless possibilities at our 450+ acre park.
Mini Camp: The Deering Estate offers one-day camps on select teacher planning days, as scheduled by Miami-Dade County Schools. To view planned activities by date click here.
Winter Camp: The Deering Estate Winter Camp aligns with Miami Dade County School's scheduled winter break.
Spring Camp: Our Spring Camp aligns with Miami Dade County School's scheduled spring break.
Summer Camp: Out of 365 days, there are 50 days of summer reserved for pure fun. At the Deering Estate's Summer Camp, we expect to make the most out of those 10 weeks of camp! Rain or shine, we will spend our time exploring the best nature has to offer. During the week long summer sessions, the campers will get the chance to hike, play, and discover how they can contribute to the protection of our protected natural areas. The Deering Estate's Summer camp aligns with Miami Dade County School's scheduled summer break.
Camp FAQ's – Frequently Asked Questions
What kinds of activities will my camper being doing?
We are a nature and science based camp, and each session of camp has a different theme which the activities will be aligned with. The themes change from session to session (examples include themes dedicated to Mangroves, the Ocean, Pine Rocklands, and Wilderness Survival), but all weeks of camp will include a hike, and experiments related to the theme.
What is the cost per week to attend Deering Estate Camp?
The weekly cost to enroll in camp varies based on which camp session it is and the age group of your child. The cost for one day mini camps on teacher planning days are $40, winter camp sessions are $45 per day, spring camp sessions are $200 for the week, and summer camps depend on age. Campers aged 6-8 in the Eco Explorers groups is $175 per child per week. The cost for campers aged 9-14 in the Expedition Deering group is $200 per child per week. For both groups in the summer there will be an additional cost for the Full Day field trip which will vary week to week but will fall in the range of $5-$15 per child.
How old does my child need to be to attend this camp? If I have more than one child will they be together?
All of our camps are open to children aged 6 to 14 years old. Due to this large range, campers will be divided into two groups: Eco Explorers (6-8 years old) and Expedition Deering (9-14 years old). During the summer within these groups the campers are divided further into Eco A (6-7), Eco B (7-8), Expedition A (9-11), and Expedition B (12-14). If you have two children within the same group (Eco or Expedition) and you wish for them to be together, you can make a special request when you sign them in on the first day of the week they are enrolled. If your two campers are in different age groups, they would not be able to be placed in the same group, however they will see each other periodically for example at lunch and in aftercare.
What should I send with my child to camp each day? How should they be dressed?
It is important to send your camper to camp prepared each day for the planned activities. It is required for your camper to bring with them a refillable water bottle and their lunch each day. We do not provide lunch or snacks to campers and there is no onsite location to purchase either food or snacks. If your child comes to camp without lunch and you are unable to arrange someone to bring the lunch to camp we will call you and arrange to find a lunch solution. It is recommended to bring snacks, extra clothes and closed toe shoes, a hat, sunscreen and bug spray. In addition, each day when you pick up your child the camp staff will remind you of how to send your child prepared specifically for the following day's activities. Campers cannot wear open toed shoes (including sandals) or Crocs at any time. We recommend they dress appropriately for the activities and the weather, however for hikes we typically recommend long sleeved shirts and pants (which can be changed out of after hikes) in order to avoid mosquito bites.
How much time will my child spend outside each day?
While we are a nature based camp, we do understand that South Florida brings along higher temperatures. For that reason, campers are typically only outside for half of the day. There could be exceptions to this average, for example on field trip days during our summer camp. To combat the heat while outside, we encourage campers to drink water as often as possible, and we provide water jugs to refill their bottles when they run out.
 What does the camp do when it rains?
South Florida weather can be unpredictable; however we are a "rain or shine" camp. If a scheduled activity is interrupted by thunderstorms, we will have indoor activities aligned with the theme of the week that can be conducted as a substitute. Whenever possible, we will return to the originally scheduled activity after the weather has passed. If it is not possible to complete the activity that day, we will try to include it on one of the following day of that same week.
 What time does camp start and end? Is there before-care and aftercare?
Camp begins every day at 9AM, with activities starting at 9:30AM. Camp ends each day at 4PM. We provide complementary before and aftercare. Before-care runs from 7:30AM-9:30AM, and those campers who are dropped off during this time will be provided a morning craft to work on. Aftercare begins at 4PM and continues until 6PM. While aftercare is free, any camper who is picked up after 6PM will be charged $15 for every 15 minutes at 6PM until they are picked up.
 Can my child call me during the day? How can I contact my camper or the camp?
Technology is not permitted to be used by campers between the hours of 9:30AM and 4PM. If your child needs to contact you for any reason during the day, they must inform a counselor who will provide them with the camp phone to contact guardians. If you need to contact the camp during the day you can call the camp phone number for your child's group, which will be provided to you on the first day your child attends camp. If there is no answer when you call, you can also call the park's mainline (305) 235-1668, and they will contact your child's counselors with your message.
What do I need to do if I need to pick up my child early, or drop them off late?
If you know in advance that you will be bringing you child to camp late, or picking them up early, it is important to communicate this to the camp staff as soon as possible so that they can arrange to have your child ready to go or to join the group. If you need to drop them off late on a field trip day during summer camp, you can either arrange to drop your child off at the field trip location, or if you are unable to drive them to that location then you can bring your child to camp where they will join the other camp group (closest to their age) for the day. If you need to pick your child up early from the field trip, please let the camp staff know in the morning on the day of, or call your camper's group phone as soon as possible in order to arrange the pick-up from the field trip location.
 How do field trips work during summer camp? Where will the camp be going, how will they get there, and how should my child come prepared?
Each camp group has two field trips each week, and the locations change from week to week. The first field trip is a "mini-trip" to a local county park which requires no fee. The mini field trips occur in the morning, and in the afternoon of the same day the group goes to their scheduled pool for swim tests and swimming. The Mini field trip is on Tuesdays for Eco Explorers and on Wednesdays for Expedition Deering. The second field trip of the week is the "full-day" trip which requires a fee of $5-$15 depending on location entrance fee. The full day field trip for Eco Explorers is on Thursdays and on Fridays for Expedition Deering. On your child's first day of camp you will be asked to fill out a field trip permission slip allowing your camper to attend field trips, and the fee must be paid by the morning of the full day field trip. If you do not provide permission for your child to attend the field trip, they will be left with the other camp group and will partake in the land based activities they do at camp. Our camp uses 13 passenger vans to transport campers for field trips. The vans are driven by our college-aged camp counselors, and each van has an additional counselor in the front passenger seat to monitor campers while transporting. The vans depart for field trips at 10AM, in order to make it to field trips in time. The campers typically arrive back to camp between 3:30 and 3:45PM from field trips in order to be ready for pick up at 4PM. Parents are not permitted to go with the camp on a field trip, and if they are at the camp field trip location, they will not be permitted to join the camp group for activities.  Your child will be provided with a camp t-shirt which they will be required to wear on the day of their full-day field trip.
What is the ratio of staff to children?
Our camp maintains a minimum ratio of 1 staff to 6 children . In addition, our staff is also assisted by volunteer counselors (typically 10 volunteers per group), and both staff and volunteers are water safety trained and CPR certified.
Are there going to be a lot of bugs?
Bugs, including mosquitos, are plentiful in South Florida. While we cannot predict how many bugs there will be each day, we recommend that campers always come prepared for their presence. This means that for hikes, we recommend that campers wear long sleeves and pants, which they can change out off after the hike. We also request that campers come prepared with bug spray. We will provide chances for campers to apply bug spray throughout the day including first thing in the morning and right before we begin scheduled hikes. Counselors can assist campers aged 6-8 with application of bug spray and sunscreen if needed.
What is the Sign-in/out protocol?
Everyday when your child first arrives to camp you must bring them to the Visitors Center next to the parking lot to be signed in on the attendance roster for their group. From this point the staff will direct your child to join their group. Camp begins at 9:30am, and it is important to sign your child in by that time so that they do not miss out on the activities. Sign out begins at 4pm, and takes place at the same location as sign-in, the visitors center.  In order to sign your child out from camp you must present your license or ID, which will be verified for match with a name under the approved guardians listed on the registration form you completed. If you are going to be sending your child home with a friend it is important that you add the approved adult to the sign out list as soon as possible to allow for a speedy pick up process.
Register online below or call (305) 235-1668; press 9, then dial extension 233 (7 days a week / 10AM – 4PM).
Camp Sign in: 7:30 am – 9 am
Camp Hours: 9 am – 4 pm
Camp Sign out: 4 pm to 6 pm
Sign-in & Sign-out is located at the Visitor Center.