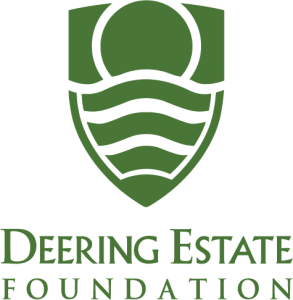 Support The Deering Estate Foundation
Founded in 1989, the Deering Estate Foundation serves as the philanthropic arm of the Deering Estate, dedicating its efforts to preserving, protecting, and enhancing the rich natural and historical resources of the Deering Estate.  The Foundation helped to establish environmental education programs, obtained grants and  funds to restore and enhance the historic buildings and grounds, seeded successful arts programs, and presented signature social events enjoyed by thousands. 
We appreciate your support, and offer many secure methods of receiving your contributions. Donations can be made online, by mail, or over the phone. Read on to determine which fund best suits your giving needs, and to access these channels. Here's how you can help!
Become a Member
Continue to renew your Foundation membership and promote membership to others. If you have not yet made the Deering Estate "your backyard on the bay", do it now by becoming a member.
Gift a Membership
Celebrate Deering All Year, Gift a Membership to family and friends this Holiday Season.
Become a Sponsor
Sponsorships benefit The Deering Estate Foundation and further our efforts to promote community, conservation, and culture as we work together to uphold the legacy of Charles Deering.
Support the Annual Fund
Contributions large and small made to Annual Fund provide important unrestricted, current-use funds that provide the Deering Estate Foundation's leadership maximum flexibility for responding quickly to new opportunities and unexpected needs, going directly where resources are needed most.
Join our team
Volunteer your time and talent that can help us achieve our goals by registering to become an ambassador of the vision or by providing in-kind products or services or by serving on one of our steering and working committees.
Take a vested interest in our vision
Consider making a gift and multi-year pledge to support achieving our vision for the future and including the Deering Estate Foundation in your estate planning.
Help us connect with others
When it comes to raising funds, relationships play a key role. Help connect us with individuals, foundations, grantors and corporations that you know and that you believe would be interested in supporting our efforts. We would love to get to know them!
If you would like to speak with us about what method of giving works best for you, please contact us at (305) 235-1668; Option 4 (Monday – Friday), or email us here.
Donations may be sent to:
Deering Estate Foundation, Inc.
16701 SW 72 Ave
Palmetto Bay, FL 33157
305-233-5074 (Fax)
It is through the generosity of donors that we are able to continue our mission to perpetuate Charles Deering's legacy.  Your support truly makes a difference!
The Deering Estate Foundation, Inc. is a community-based charitable 501(c) 3 Florida Corporation dedicated to preserving and enhancing the Deering Estate, one of South Florida's largest and most significant historical, archeological, architectural and environmental treasures.