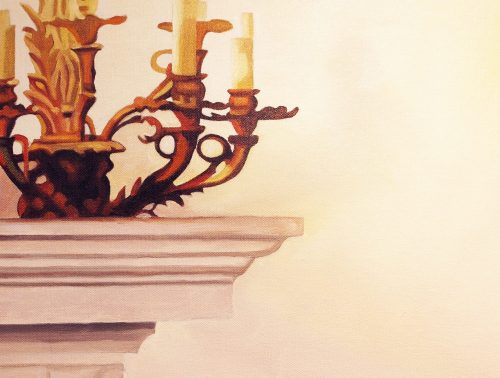 Exhibit: Stone House as Subject
June 17

-

August 31
Event Categories:
The Deering Estate presents Stone House as Subject, an exhibition that illustrates the historic Stone House as living embodiment of history and culture. In celebration of the 100th anniversary of the construction of the Stone House, Miami based artists Becky Franco and Monia Meluzzi have created new works that explore the interior and exterior facets of the Stone House as an architectural and historical beacon of South Florida.
Franco's suite of paintings entitled Observed, are the culmination of her project residency at the Deering Estate in 2019-2020. During her residency, Franco spent time reflecting on the interior spaces of the Great Hall that once housed the great masterworks of Charles Deering's collection. Her connection to the site is captured in the intimacy, tenderness and empathy that she captures in her paintings of the Stone House. Franco's process is orientated around careful observation and deep connection to a site – in particular the small and delicate details that are only seen through close and careful viewing. Franco's photo realistic style captures the resiliency of the Stone House's unique features from a variety of vantage points. Her compositions have a cinematic quality in her use of alternating angles that vary from cropped close-ups to tilted views. These angles make the canvases appear in suspended animation, like film stills, that invite the viewer to situate themselves with respect to the canvas as well as the space they inhabit.
In the entrance hall gallery, Monia Meluzzi has created a series of gestural drawings that demonstrate the energy and vitality of the Stone House' unique interior and exterior façade. Meditating on the site as both a historic house museum and a nature preserve, Meluzzi utilizes recycled papers treated in washes of coffee that echo the organic palette of the natural world surrounding the Stone House. Playing with materiality, Meluzzi layers papers, marks and washes on top of each other that unfurl like ancient architectural scrolls of the Stone House. Meluzzi also created hand-made geometric frames that mimic the classical floral and vegetal motifs found throughout the interior of the Stone House.
About the artists:
Becky Franco was born in Havana, Cuba. She escaped Cuba with her family in 1961. She completed in the United States a BFA with Honors from Pratt Institute, New York in 1974. Becky has always been interested in painting on a large scale influenced by the Photo Realist movement of the seventies. Upon graduating, she sought employment in the difficult and male dominated field of outdoor advertising, where she got the opportunity to create large hand painted billboards and had the distinction to prove herself as a competent female artist. She became the first female billboard artist to be hired in the outdoor industry and join The Sign & Pictorial Display Union, Local #230 in the United States.
She painted large billboards for fifteen years and when digital computer imaging threatened the outdoor advertising industry making it extinct, she shifted her focus by becoming an independent art professional gaining many private Painting and Mural commissions. Her paintings were featured in many publications including Newspapers and a Rizzoli book called Tromp L'Oeil At Home by Karen Chambers.
Becky has always remained interested in the expansion and refinement of her skills. To that end, after many years as an independent art professional, in 2008 she returned to academia to attain an MFA from Queens College, New York. In 2011 Becky was awarded the Artist Residency Express + Local: NYC Aesthetics at The Queens College Art Center, Rosenthal Library, Flushing, New York. Becky's paintings have been exhibited in a number of group shows, a two woman exhibition, and most recently at The Islip Art Museum exhibition about Caribbean artists called LA PLACITA where the New York Times interviewed her about her work. In 2013 Becky had her second solo exhibition CHOSEN at Soho20Chelsea gallery, New York. Most recently El Museo Del Barrio included two of her paintings in LA BIENAL 2013, Here Is Where We Jump.
In 2014 Becky was a Cintas Fellowship Finalist – Museum of Art + Design in Miami. Becky in 2015 exhibits in the group show, LAST EXIT: PAINTING in The Audrey Love Gallery at The Bakehouse, Miami.  In 2020 Franco was awarded an Artist Residency at The Deering Estate. Franco now teaches Oil painting at Miami Dade College and continues pursuing her career as a professional artist.
Monia Meluzzi's work focuses on showing the issues of human behavior that cause destruction in the fields of war, environment, and society. She creates artworks in two and three dimensions with media that don't damage the environment. Her drawings utilize recycled materials like cardboard and brown paper used for shipping, as well as old drawings that are collected and reused attached in a collage. She also uses coffee to stain papers to achieve a warm tones for her backgrounds that resemble nature. Using permanent inks and markers to ensure the initial gestures of the work are always present. Her sculptural work considers using objects that people considered broken or unusable because she wants to give them a new visual value through installation. The linear shapes of her drawing style are based on body structures. As a result, her intention is have the viewer walk through her works in order to participate using their body as part of the composition in form that feels both nostalgic and chaotic.
Meluzzi received her Artistic Maturity Degree from Liceo Artistico A. Serpieri in Rimini, Italy in 2011. In is currently completing her BFA at Florida International University, for which she received the Visual Art Scholarship in 2021. In 2018, she also received the Miami Dade College Art Majors Grant and Mangos Scholarship from Miami Dade College in 2018.
The Exhibit will be on display daily, from 10 a.m. to 4 p.m, June 17 – August 31, 2022
COST: Free with General Admission, $15 for adults (ages 15+) and $7 for children (ages 4-14).  Admission is free for Deering Estate Foundation Members and children under 4 years old. Non-Members can choose their date of visit / purchase General Admission tickets online here. (Members do not need to reserve to view exhibit; please show your membership card at the Ticket Booth on the day of your visit, 10am-4pm). Become a Member today!
Questions? Contact Us or Plan Your Visit
Cultural Arts Programming at the Deering Estate is made possible with the support of the Miami-Dade County Department of Cultural Affairs and the Cultural Affairs Council, the Miami-Dade County Mayor and Board of County Commissioners, and The Deering Estate Foundation, Inc.
Related Events