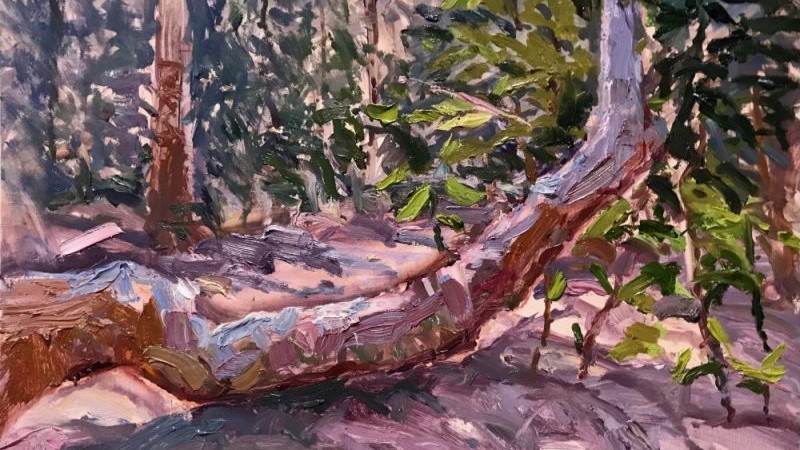 Exhibit: Andres Cabrera-Garcia: Circumscribed Landscapes
May 1

-

October 31
Event Categories:
This exhibition is part of Contemporary Currents, a six month contemporary art program that invites artists from Deering Estate's Artists-in-Residence program to engage directly with our historic house collections and settings. Each artist is invited to create new work that functions in dialogue with the narratives of the Deering Estate's vast and extensive history.
Circumscribed Landscapes sets a visual boundary of time and space to express the exuberant and diverse nature at the Deering Estate and invites viewers to search for these scenes during strolls while exploring around on their own. By exhibiting the paintings in the 'Garden Room,' Cabrera-Garcia also emphasizes the Deering Estate's commitment to ecological preservation. The works propose a look at the fleeting moments of beauty and sublimity that nature offers when spending time immersed in it, encouraging a closer and longer look as well as time for introspection. They also combine Charles Deering's favored inclination for painting, the raw and creative process of working in situ, and the beauty of the natural world as framework for the built environment, which are the historic houses. The exhibition will be on display daily, May 1 – October 31
COST: Included with General Admission, $15 for adults (ages 15+) and $7 for children (ages 4-14).  Admission is free for Deering Estate Foundation Members and children under 4 years old. Non-Members can choose their date of visit  / purchase General Admission tickets online here (choose your visit date between May 1 – October 31). Members do not need to reserve to view exhibit; please show your membership card at the Ticket Booth on the day of your visit, 10am-4pm. Become a Member today!
Questions? Contact Us or Plan Your Visit
An exhibit reception will be held on June 25; info & tickets can be found here. 
Cultural Arts Programming at the Deering Estate is made possible with the support of the Miami-Dade County Department of Cultural Affairs and the Cultural Affairs Council, the Miami-Dade County Mayor and Board of County Commissioners, and The Deering Estate Foundation, Inc.
Related Events