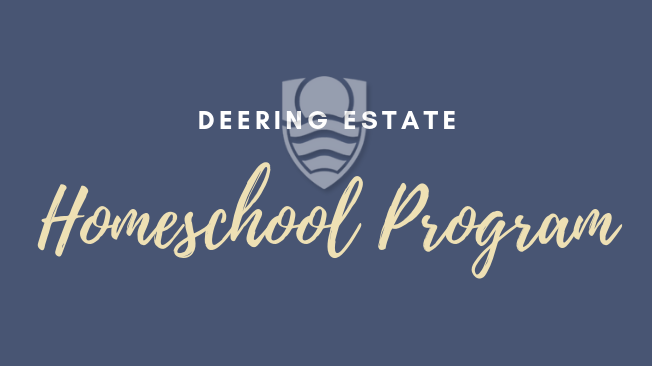 Eco Academy
September 6 @ 10:00 am

-

1:00 pm

EDT
Event Categories:
Buy Tickets
Join Homeschool at Deering Eco Academy series every first Wednesday of the month, September – May. Classes will explore the fields of wildlife biology, marine biology, ecology, and environmental science.
Ages: 5 to 8
Time: 10AM – 1PM. Drop off & pickup are located at the Visitor Center.
Cost: $15 per child, per date.  Spaces are limited!
2023:
Wednesday,  September 6 – SOLD OUT
Activity: Fungi Survey Hike and Egg Drop
Description: We will learn about fungi and their relationship with our local habitats, hiking through the tropical hardwood hammocks in search of different fungi. Students will also learn about the scientific method through an egg drop experiment.
Wednesday,  October 4 – SOLD OUT
Activity: Volcanoes and Bird Survey Hike
Description: We will explore the different states of matter and how they react with one another. We will create volcanoes and watch them erupt, and explore the various habitats within Deering in search of different bird species during peak fall migration.
Wednesday,  November 1
Activity: House Tour and Archaeology
Description: We will explore the historic home of Charles Deering to learn about this history of the site! Students will look back to learn what life was like in South Florida before the hustle and bustle we know today. The children will also become mini-archaeologists as they search for replica artifacts in our archaeology demonstration site.
Wednesday,  December 6
Activity: Ethnobotany Guides and How to Use a Compass
Description: We will learn how to navigate using compasses. We will create a take home ethnobotany guide with details on useful plants that are native to South Florida.
2024:
Wednesday,  January 3
Activity: Habitat Tour and Ecosystem Guides
Description: We will learn about the different ecosystems found in Florida by taking a tram ride through Deering Estate. The children will learn about what makes each ecosystem different: elevation, animals, vegetation, and more. They will create a take home guide of the characteristics found in each ecosystem.
Wednesday,  February 7
Activity: Herpetology
Description: We will learn about the field of herpetology through anole surveys throughout the grounds and meeting our classroom animals.
Wednesday,  March 6
Activity: Water Filtration and Native Plant Clay Pots
Description: We will learn about the resources that plants need in order to survive. The children will learn about how the earth naturally filters water through its layers. We will use the soil that we created using our compost bin to take native plants home in our very own clay pots.
Wednesday, April 3
Activity: Squid Dissection and Fishing
Description: We will dissect a squid to learn about its anatomy. We will learn what overfishing is and how it affects all oceans. We will also fish in Biscayne Bay and learn about the fish found here in South Florida.
Wednesday, May 1
Activity: Seagrass Survey and Oil Spill
Description: We will explore the wonderful coastline ecosystem of Biscayne Bay and look for different marine creatures! Children will wade through the Biscayne Bay shoreline with nets to try to find as many marine animals living in the seagrass beds as they can. Children will also learn about oil spills and try to cleanup an oil spill.
*Registration online only*
To receive emails for class updates and supplemental material, please email Julian at [email protected]
Please note, scheduled activities are subject to change.
Check out our other Homeschool Programs here. 
Registration is via Miami Dade County Park Link.  Create your account today by clicking here.
Questions?  Contact Us
Follow our Learning Programs on Instagram! @DiscoverDeering:
Related Events