Event Navigation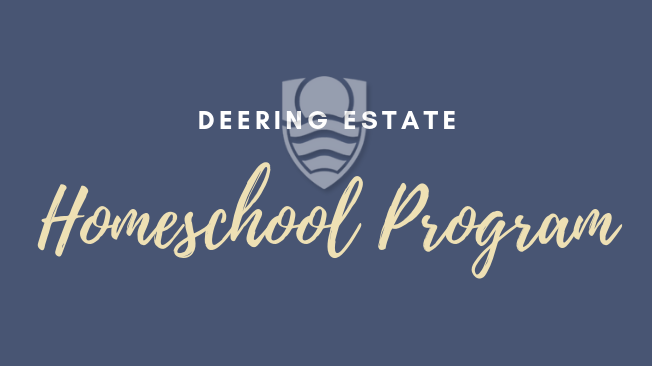 Eco Academy
December 1 @ 10:00 am

-

1:00 pm

|

Recurring Event

(See all)

One event on October 6, 2021 at 10:00 am

One event on November 3, 2021 at 10:00 am

One event on December 1, 2021 at 10:00 am

One event on January 5, 2022 at 10:00 am

One event on February 2, 2022 at 10:00 am

One event on March 2, 2022 at 10:00 am

One event on April 6, 2022 at 10:00 am

One event on May 4, 2022 at 10:00 am
Event Categories:
Buy Tickets
Join Homeschool at Deering Eco Academy series every first Wednesday of the month (September – May), from 10am-1pm, for children ages 5-8. Classes will explore the fields of wildlife biology, marine biology, ecology, and environmental science.
Participants must practice social distancing and wear face coverings. Please review the latest safety guidelines prior to visiting. Sign-in & Sign-out is located at the Visitor Center.
Cost: $15 per person.  Spaces are limited! Registration online only.
*Registration online only*
Upcoming 2021:
October 6 – SOLD OUT! 
Activity: Natural Dyes and DIY Pottery
Description: We will travel back in time to learn about the history of the Deering Estate when the Tequesta tribe inhabited the land. The children will identify and learn to use different plants and berries that the Native American Tequesta tribe used to dye clothing and pottery items.
November 3
Activity: Ethnobotany and Terrariums
Description: We will explore the different kinds of plants and trees that are found in South Florida and grow their own! Children will identify native plants found in South Florida and learn about how humans have used them.
December 1
Activity: Underwater Volcanoes and Solution Hole Hike
Description: We will explore the different solution holes found in Deering Estate and learn how they are formed. The children will also learn about the rock cycle by creating their very own underwater volcanoes!
Upcoming 2022:
January 5
Activity: Squid Dissection and Camouflage Activity
Description: We will investigate the external and internal anatomy of a squid and how they have adapted to life in the ocean! Children will participate in a discussion about the types of adaptations animals use to survive.
February 2
Activity: Pine Rockland and Animal Encounter
Description: We will explore a native habitat found in South Florida and the different animals that inhabit them and what types of homes they live in! Children will take a hike through the Pine Rocklands to conduct a survey and meet our classroom pets.
March 2
Activity: Boardwalk Wipeout and Shelter Building
Description: We will test different models of bridges to see which will hold up best in a storm. Children will design and build bridges that will be tested to see which designs will hold up against the strong winds and waves of a storm.
April 6
Activity: Mangrove Clean-Up and Build a Boat
Description: This earth month we will explore a native habitat found by the coasts of South Florida! We will learn about the different threats that mangrove ecosystems and its inhabitants encounter. Children will hike through these mangroves and pick up debris that has been washed up from the tide and use them to build a boat.
May 4
Activity: Catching Critters and Ocean Acidification
Description: We will explore the wonderful coastline ecosystem of Biscayne Bay and learn about how humans have affected them! Children will wade through the Biscayne Bay shoreline with nets to try to find as many marine animals living in the seagrass beds as they can.
Full Schedule for 2021-2022 Eco Academy can be found by clicking here.
To receive emails for class updates and supplemental material, please email Melaney at [email protected]
The Deering Estate has moved to Park Link, an online and user-friendly registration & payment system for our programs, classes, and events. 
All tickets, registrations, and payments require a Park Link account.  To help make this transition smooth, please create your household account today by clicking here.
Questions?  Contact Us
Related Events