Event Navigation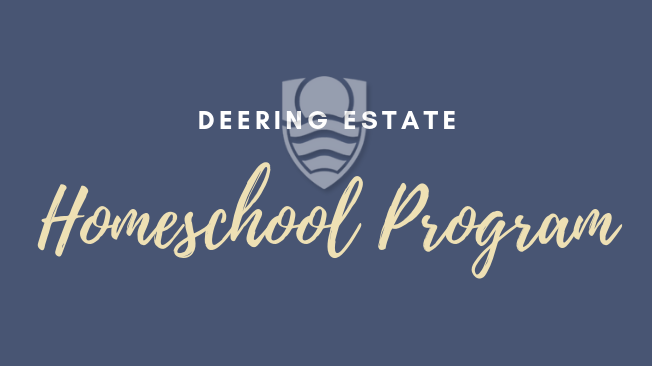 Eco Academy
February 1 @ 10:00 am

-

1:00 pm

EST
Event Categories:
Buy Tickets
Join Homeschool at Deering Eco Academy series every first Wednesday of the month, September – May. Classes will explore the fields of wildlife biology, marine biology, ecology, and environmental science. Schedule of activities are listed below or can be found here.
Ages: 5 to 8
Time: 10AM – 1PM. Drop off & pickup are located at the Visitor Center.
Cost: $15 per child, per date.  Spaces are limited!
2022 Dates: 
Wednesday,  September 7
Activity: North Addition Tram Tour and Archeology
Description: We will explore the North Addition area of Deering Estate where we will learn about Palmetto Bay's Old Post Office and its importance! Children will look back to learn what life was like in South Florida before the hustle and bustle we know today.
Wednesday,  October 5
Activity: Burial Mound Hike and DIY Rope
Description: We will travel back in time to learn about the history of the Deering Estate when the Tequesta tribe inhabited the land. The children will identify and learn to use palm cabbage to make rope and explore a scared burial mound of the extinct Tequesta tribe.
Wednesday,  November 2
Activity: Ethnobotany and Soil Erosion
Description: We will explore the different kinds of plants and trees that are found in South Florida. Children will identify native plants found in South Florida and learn about how they prevent soil erosion!
Wednesday,  December 7
Activity: Solution Hole Hike and Water Moves
Description: We will explore the different solution holes found in Deering Estate and learn how they are formed. The children will also learn about how water can physically weather rock to physically alter environments using clay and water.
2023 Dates:
Wednesday, January 4
Activity: Fish Dissection and M&M Survival Challenge Description: We will investigate the external and internal anatomy of a fish and how they have adapted to life in the ocean! Children will learn how different adaptations affect how animals survive in the wild.
Wednesday,  February 1
Activity: Pine Rockland Atala Survey and Porosity & Particle Size
Description: We will hike a native habitat found in South Florida and do a survey on the endangered Atala Butterfly! Children will learn about how rock porosity and particle size affect how much water rocks can hold.
Wednesday,  March 1
Activity: Solar Oven and Orienteering with compasses
Description: We will build an oven that runs on solar power and make s'mores! Children will learn to navigate their environment using directions and a compass!
Wednesday, April 5
Activity: Mangrove Hike and Air Pollution
Description: This earth month we will explore a native habitat found by the coasts of South Florida! We will learn about the different threats that mangrove ecosystems and its inhabitants encounter by hiking the mangroves. Children will learn about air pollution and how it affects the environment and people.
Wednesday, May 3
Activity: Seagrass Survey and Oil Spill
Description: We will explore the wonderful coastline ecosystem of Biscayne Bay and look for different marine creatures! Children will wade through the Biscayne Bay shoreline with nets to try to find as many marine animals living in the seagrass beds as they can. Children will also learn about oil spills and try to cleanup an oil spill.
To receive emails for class updates and supplemental material please email Julian at [email protected]
Schedule of activities subject to change.
*Registration online only*
Please review the latest COVID-19 safety guidelines prior to visiting.
Check out our other Homeschool Programs here. 
Registration is via Miami Dade County Park Link.  Create your account today by clicking here.
Questions?  Contact Us
Follow our Learning Programs on Instagram! @DiscoverDeering