The Deering Estate Foundation's recent fundraising and "friend-building" cruise to Portugal and Spain was a truly enriching and rewarding experience — socially, culturally, educationally, and gastronomically.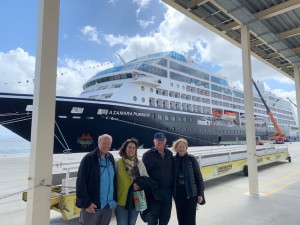 31 adventure-seeking Foundation members boarded the Azamara Pursuit in Lisbon and sailed along the Atlantic coast and up the Guadalquivir River to Sevilla, arriving at night beneath the bright lights of the iconic Giralda Bell Tower (the inspiration for Miami's Biltmore Hotel and Freedom Tower). We toured the breathtaking Alcazar Royal Palace, the palace of the Duchess, and the Plaza de España, built for the 1929 Ibero-American Exposition World's Fair.
We then sailed past the Rock of Gibraltar, stopping briefly in Malaga and Almeria, and traveled by bus through desert and snow-covered mountains to Granada to see the Alhambra, a world heritage site. Originally built as an Islamic palace in the 1300s, the Alhambra became the Christian court of Queen Isabella and King Ferdinand after the "Reconquista" in 1492. It was here that Christopher Columbus received his endorsement to sail to America.
Our next port was Valencia, where we were treated to a "Cirque du Soleil" style performance in the remarkable City of Arts and Sciences and Opera House complex, designed by architect Santiago Calatrava. In Palma de Mallorca, some toured a medieval fortress and magnificent cathedral, while others opted for cave adventures or mountain hiking. Later, after docking in Barcelona, our group traveled by van to Sitges.
In Sitges, Vinyet Panyella (recently retired director of the Museu de Maricel) gave us an in-depth tour of the museum, which was constructed from 1909 to 1921 to serve as a summer residence and art gallery for Charles Deering. The tour ended with a champagne toast on the museum's rooftop, the Cloisters.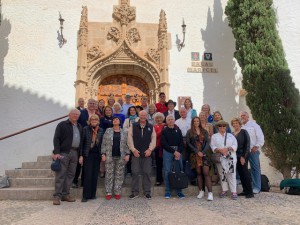 After a delicious Catalan lunch at the historic La Nansa restaurant, our group reconvened in the opulent Palau de Maricel for a choral performance and reception with city officials and the public. Following official opening remarks, we presented proclamations to the town of Sitges and the Maricel Museum from the Village of Palmetto Bay, signed by Mayor Karyn Cunningham. It was a thrill to share the new Spanish language version of our award-winning documentary On This Land, The Charles Deering Estate (a project of The 100 Ladies of Deering, a philanthropic circle of the Deering Estate Foundation) with an international audience. In turn, the Maricel Museum screened its own recent film about the Charles Deering art collection, created as part of the museum's centennial.
The following day's excursion took us by bus to Tarragona, another world heritage site. While some embarked on an extensive tour of the Roman ruins, others visited the Procession of the Palms and the Palm Sunday mass at the magnificent Catedral de Tarragona, to which Charles Deering had donated a pipe organ.
Following a walkthrough of the historic town of Tarragona and a luncheon at a countryside inn, we reached the holy grail: Tamarit Castle. Charles Deering purchased the castle in 1917, and his family maintained ownership of it long after his death in 1927. Perched high on a cliff overlooking the sea, Tamarit is a fairytale setting – and, as such, now acts as a private wedding venue.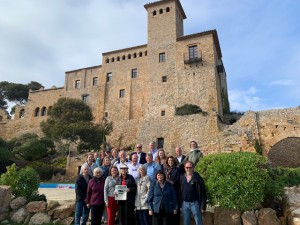 As the day came to a close, we returned to Sitges to visit the community hospital funded by Charles Deering in 1912. The handsome building features a large portrait of Charles Deering in the boardroom, which was once the operating room. The hospital owns an adjoining Malvasian grape vineyard and produces a renowned wine, which we gladly sampled in the hospital's newly built wine tasting museum.
Witnessing Charles Deering's Spanish legacy in person — and realizing the impact he continues to have in Sitges and beyond – was truly inspirational, motivating us more than ever to preserve and promote his legacy at the Deering Estate.
Special thanks to Holly Orzechowicz at The Store for Travel and to Maria and Dave McDonald for assistance in planning this global excursion. We also owe a huge debt of gratitude to Vinyet Panyella, whose graciousness, generosity, and resourcefulness made our visits to Sitges, Tarragona, and Tamarit so extraordinary.
Cruise attendees included Dave and Maria McDonald, Becky and Tom Matkov, Dave and Beth Marley, Michael and Helen Cornely, Eric and Lori Haas and daughters Taylor Haas and Meghan Hetfield, Sandy McCarthy, Rita Casagrande, Tom and Suzanne Neider, Pam Mullins and Walter Flores, Suzuyo and John Fox, Jo Szaro, Donna Golik, Larry and Deborah Kavanaugh, Annette DeStefanis, Teresa Agress, Cheryl Parsel, Jim and Kimberly Moir, and Mary and John Pettit.