Discover Deering Estate & Save!
For a Limited Time, Buy One Get One Free* on General Admission. Tickets can be redeemed anytime when museum access becomes available through March 31, 2021!
2 Ticket Price
BOGO PRICE
Parking
Parking is available on the West side of SW 72nd Ave.
FREE
FREE
*price excludes taxes & fees.
ESTATE HOURS
10am - 5pm
(Final Entry: 4pm)
Open every day except Christmas & Thanksgiving
MUSEUM TOURS
View the latest tour info here >
Address
16701 SW 72nd Ave, Miami, FL 33157
Get Directions
Experience Paradise Among The Palms
From its archeological treasures to its eco-marvels, the Deering Estate is one of Miami's most fascinating historic places. Enjoy 2 historic homes on the property, a stroll along the boat basin with a gorgeous view of the water, or walking through the nature trails for the chance to observe some of the Deering Estate's estimated 170 resident and migratory bird species and estimated 40 species of butterflies.
Historic House Highlights
Richmond Cottage
One of the oldest wooden structures in Miami that was built by Dr. Samuel Richmond in 1896 for his family & was shortly thereafter turned into the area's only inn in 1900.
Stone House
The Mediterranean Revival Stone House was built in 1922 and safely housed Charles Deering's collection of fine art and furnishings.
Tools & Artifacts
Deering Estate is home to a wide variety of shell tools that have been discovered onsite that the Tequesta Native Americans (ca. 3rd century BCE to mid-18th century) left behind.
Art & Furnishings Collection
Deering Estate is home to a Charles Deering's collection of fine art and expensive furnishings including the famous Charles Deering Self Portrait.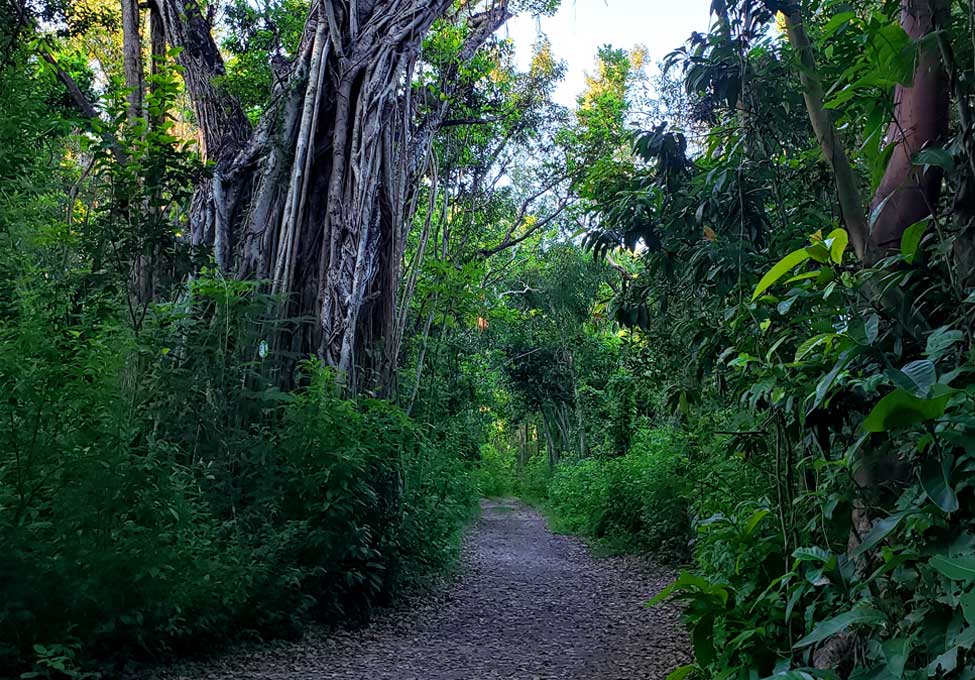 Walking Trails
Stroll along a tropical hardwood hammock to experience many native trees, shrubs, birds & butterflies.
Mangoes
Some of the mango types on-site are presumed to be Hadens, Tommy Atkins, and Kent as well as other cultivars. Available for purchase.
Flora & Fauna
The Deering Estate is home to over 80 native plant and tree species. Fun Fact - Our Royal Poinciana trees are typically in full bloom from May - July.
Native Ecosystems
There are 8 native ecosystems in and around our property which include globally endangered pine rockland habitat, tropical hardwood hammock, mangrove forests, salt marshes, Chicken Key, and submerged seagrasses.
Bird Species
The Deering Estate is part of the Biscayne Bay IBA – Important Bird Area - which contains a notable 409 countable species.
Butterfly Species
The Deering Estate is home to several rarely seen species of butterflies such as the Ruddy Daggerwing, Dina Yellow, & Atala as well as the nearly 40 species that may be observed onsite.
Tidal Basin
Enjoy a stroll along the boat basin or nature trails for the chance to observe some of the Deering Estate's wildlife by the water. You might even be lucky enough to catch dolphins playing or a might pelican flying overhead.
Manatee Viewing
Manatees can be seen year-round at our tidal basin area. High viewing times are in April which is their mating season.
Get back to nature & enjoy a day at the Deering Estate!
Buy One Get One Free* General Admission Available For A Limited Time.
Tickets must be purchased online in advance prior to visiting the Deering Estate.
*Offer valid for buy one general admission ticket and receive a second general admission ticket of equal or lesser value for free. Valid for general admission that includes Museum Tour + Grounds access only. This coupon cannot be combined with other discount offers. Blackout dates and exclusions may apply. Promotion ends on September 14, 2020.

**Offer valid for new memberships and renewals. Promotion ends September 30, 2020. Other restrictions may apply.
Food & Beverages
A variety of restaurantsoffering pizza, sandwiches, soup, specialty coffee and refreshments arelocated within a 10 minute walk. Keep your receipt for same-day re-entry.
Restrooms
Restrooms are located on the north side of the Pump House.
Important Do's & Dont's
We ask our patrons to join us in the stewardship of Deering Estate in order to protect the natural resources and the historic buildings.
• Refrain from making loud noises, feeding, harassing, or throwing objects at animals.
• Do not pick plants, flowers or climb trees.
• Stay on designated pathways.
• No flash photography or portrait photo-shoots are permitted inside the historic houses. For personal or professional photo shoots on the grounds of Deering Estate, please obtain a permit wristband upon arrival.
The Following Items are Prohibited
1. Drones
2. Balloons
3. Kites
4. Bikes
5. Balls
6. Frisbees
7. Skateboards
8. Scooters
9. Rollerblades
10. Skates
11. Remote Control
Boats / Cars
12. Pets
Due to safety precautions, museum tours and museum access may be temporarily modified, restricted, or prohibited.
Please visit the latest information here: Covid-19 Updates >